To read in English, please scroll down the page, TNX!

AtoZ and Albright legalized bug
by A-to-Z Novelty Electric Co. 
Dalla A alla Z, un proposito molto vasto. La Statunitense A to Z Electric Novelty Co.di Max Levy di Chicago.
La società ha avuto una vita breve ma intensa, è stata la società che ha introdotto sul mercato dell'epoca la più massiccia quantità di falsi riprodotti sul formato dei brevetti e delle costruzioni di Horace G. Martin, fondatore della Vibroplex.
Erano i cosidetti "Improved Vibroplex".
"Vibroplex migliorati".
La AtoZ ha prodotto come primo bug, una copia del Martin Vibroplex o original, in collezione si conoscono due doppia leva ed un paio di Model-X.
Questo dilagare di Bug Pirati si ebbe sino a quando J.E. Albrigth strinse degli accordi commerciali con la Poste Telegraph e la Postal Union, i quali dichiararono dai loro uffici, fuori legge, tutti i Bug privi di brevetto.
J.E. Albright che in precedenza era entrato in Società con Horace G. Martin, detentore dei brevetti depositati e validati, propose da bravo commerciante di sanare i bug "pirati" facendo pagare una tassa di 2 dollari per ogni bug pirata. Questo dava diritto all'apposizione di una targa in ottone che ne autorizzava l'uso anche presso le più importanti Società Telegrafiche del paese.
La targa di legalizzazione riportava questa frase di avviso :
"il bug non è stato prodotto da J.E. Albright, quindi privo di ogni garanzia d'uso".
Questi sono i cosidetti Albrigth Bugs prodotti dalla AtoZ.
Dopo questa breve premessa, vi rimando al sito del caro OM Tom French W1IMQ, detentore del sito ARTIFAX BOOKS, pietra miliare nel settore dei tasti, il quale dedica al solo capitolo A-to-Z "Albright" una intera pagina di storia della telegrafia, oltre che una sorta di censimento sui tasti AtoZ Albrigth ad oggi conosciuti.
Anche questi tasti sono contenuti nell'elenco dei bug censiti da Mr. Tom W1IMQ. 
Un sito che vale la pena visitare per intero :
http://artifaxbooks.com/albright.htm
Maggio 2012
Con la dipartita del caro Tom French, si sono perse sul Web le sue preziose pagine.
Ripropongo nel link sopra, la pagina Web salvata in Pdf.
Buona lettura  
Ottobre 2016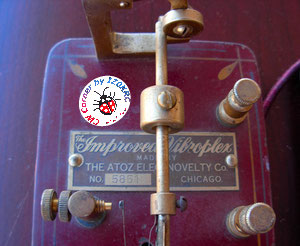 Questa è un esempio di targhetta A to Z originale con l'appellativo "Improved Vibroplex". 
Per vedere il bug "Improved" da altre angolazioni, scendi più in basso. 

 A-to-Z (JE Albright)
From A to Z, a very broad context. The US A to Z Electric Novelty Co.di Max Levy of Chicago.
The company has had a short-lived but intense, has been the company that has introduced most of the time the massive amount of false played on the format of the patents and the construction of Horace G. Martin, founder of Vibroplex.
They were the so-called "Improved Vibroplex".
"Vibroplex improved".
The AtoZ produced as the first bug, a copy of Martin Vibroplex or original in the collection are known two double lever and a pair of Model-X.
This spread of Bug Pirates came until JE Albright shook trade agreements with the Post Office and the Postal Telegraph Union, which declared from their offices, outlaw, all bug-free patent.
JE Albright who previously had close relationship of the Company with Horace G. Martin holder of patents filed and validated, proposed as a good trader to heal the bug pirates by charging a fee of $ 2 on every pirate bug by affixing a plaque brass which authorized the use, with this sentence warning:
"The bug was not produced by JE Albright, therefore without any guarantee of use."
These are the so-called Albright Bugs products from AtoZ.
After this brief introduction, I refer you to the site of the first OM Tom French W1IMQ, holder of the site Artifax BOOKS, a milestone in the field of the keys, which devotes one chapter to the A-to-Z "Albright" an entire page in the history of telegraphy as well as a kind of census on the keys AtoZ Albright known today.
Although these keys are contained in the list of bugs listed by
Mr. Tom French W1IMQ, now SK.
If do you will see the Tom's page dedicate to the AtoZ info and census, plese click here! I've save this page in Pdf form.
Have a nice reading.
On top do you will see the special AtoZ plate, named "Improved Vibroplex", under do you will see this key from various corners.
October 2016.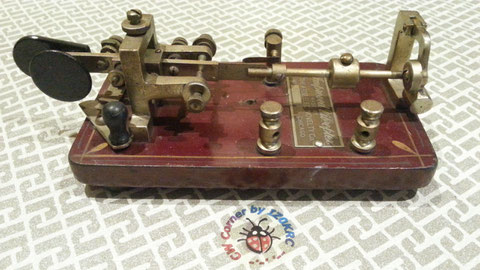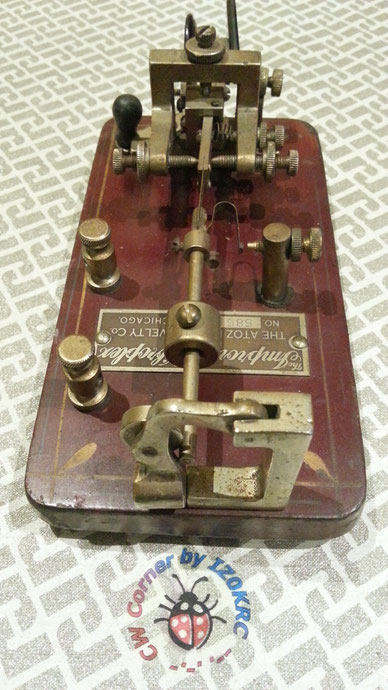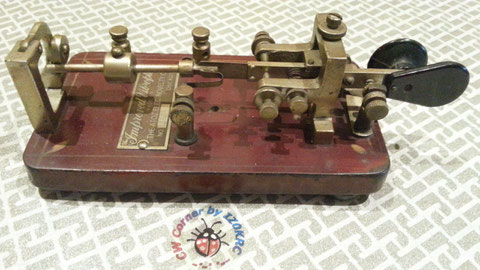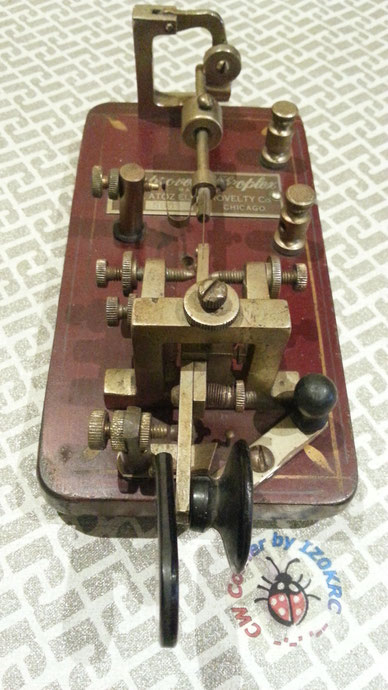 AtoZ original model  (J.E. Albrigth #1049) my first AtoZ bug .
AtoZ Double lever model (J.E. Albrigth #2023).
Si dice che un collezionista di Vibroplex diligente non deve prendere in considerazione minimamente la produzione AtoZ, questo è quello che si dice, ma sfido chiunque a trovare un collezionista diligente a 360°.
La sola accezione di collezoinismo è di per se poco diligente.
Diligente è chi tra i primi cavalca l'onda, un pioniere che con pochi spiccioli inizia a crearsi pian pianino la sua bella collezione dall'alto della scarsa popolarità di collezionisti e quindi di prezzi.
I collezionisti della seconda ora, diligenti non lo sono affatto perchè subiranno l'inflazione di richiesta e quindi di prezzi esosi.
Poi succede che chi da bambino ha visto operare "i grandi" con un bug hanno un valore di ricordo storico sull'oggetto, ma chi è cresciuto nella mia epoca, il tasto che ha visto operare è il paddle elettronico.
Con questo voglio dire che il collezionismo di bug a mio modesto parere ha passato il suo periodo d'oro e pian pianino si spingerà con l'interesse che ad esso gira intorno.
Questa è solo la mia opinione e niente più, anche se vedo in rete che vi sono altri che la pensano e che scrivono le mie medesime opinioni.
Vi sono inoltre anche altri "sentori" nell'aria che lasciano intravedere intere ed importanti collezioni che volano via con il vento.
Niente è eterno e questo è il ciclo delle cose, che ci piaccia o no.
Chi colleziona lo fà per il suo piacere personale e null'altro, senza badare al valore della collezione.
Quello che oggi acquisti a 100, domani lo rivenderai sicuramente a meno, questa e una regola che vale per i Francobolli, le Numismatica, le carte telefoni chel e figurine ecc. tolte poche eccezioni le cose girano secondo questo carosello.
Quindi se vogliamo individuare una persona diligente nel collezionista, siamo proprio fuori strada.
Maggio 2012.
A-to-Z SI ?
A-to-Z No ?
Io direi senz'altro A to Z SI, cosa vogliamo togliere ad una creazione A to Z.
Direi nulla, se poi consideriamo che copiare a volte risulta essere più impegnativo che creare, cosa ha di meno un A to Z da un Vibroplex come meccanica e come valore storico ?
A mio modesto parere, penso proprio nulla, sono come due goccie d'acqua.
Qui sotto si potrà vedere uno dei pochi Bug - pirati, cioè non "legalizzati" da Albright, ancora con la sua etichetta originale e sfrontata per l'appunto Improved Vibroplex .
Luglio 2012

 

A to Z   yes  or  not !
It is said that a diligent collector of Vibroplex should not consider minimally production A to Z, this is what it says, but I challenge anyone to find a diligent collector 360 °.
The only sense of collect is itself little diligent.
Diligent is who among the first riding the wave, a pioneer who just pennies very slowly begins to create his beautiful collection from the unpopularity of collectors and therefore prices.
The collectors of the second hour, diligent, not at all because they will suffer inflation of demand and therefore prices exorbitant.
Then it happens that a child who has seen work "great" with bugs have a value of historical memory object, but who grew up in my era, which saw the key work is the electronic paddle.
By this I mean that the collecting bug in my humble opinion has passed its heyday and very slowly will turn off with the interest that it turns around.
This is just my opinion and nothing more, even sevedo network that there are others who think and write my very opinions.
There are also other "hints" in the air that hint whole and important collections that fly away with the wind.
Nothing is forever, and this is the cycle of things, whether we like it or not.
Who collects it makes for his personal pleasure and nothing else, regardless of the value of the collection.
What is now purchases 100, tomorrow it rivenderai definitely less, this is a rule that applies to the stamps, the Numismatics, cards and figurines etc. telefonichel. removed a few exceptions things turn this second carousel.
So if we want to locate a person in a diligent collector, we are just off the road.
I would say definitely AtoZ YES, what we want to remove a creation AtoZ.
Nothing, if we consider that copy sometimes turns out to be more challenging than creating what has less an AtoZ by a Vibroplex such as mechanical and historical value?
In my humble opinion, I think anything, are like two drops of water.
Below you can see one of the few Bug - pirates, with write on plate
"Improved Vibroplex".
July 2012.
MAX LEVEY owner of A-to_Z factory 
Grazie all'impegno ed alla ricerca di David N6EV, ora è possible sapere chi è stato il proprietario della A-to-Z.
Era Max Levey, da prima 1905 telegrafista e poi direttore dell'ufficio telegrafico di Muskogee in territorio Indiano, da dove dovette scappare per ammanchi di cassa fatti per coprire i debiti di gioco, divenne poi produttore e distributore cinematografico principalmente e si occupava come "ripiego" della produzione dei famosi cloni della Vibroplex.
Tutta la storia la potete leggere direttamente sul sito di David N6EV, con molte foto ed info a corredo.
http://n6ev.com/articles/max-levey
MAX LEVEY owner of A-to_Z factory 
Thanks to the research of David N6EV, now we can know who is the owner of A-to-Z factory.
Is Max Levey, he during 1905 was a telegrapher and after director of the Telegraph office in Muskogee into the Indian territory, from where he had to flee to cash shortages events to cover the gaming debts, became producer and distributor of films and mainly dealt come "fallback" Production of the famous Vibroplex clones.
The whole story you can read directly on the David's website N6EV, with many photos and information supplied.
http://n6ev.com/articles/max-levey
A-to-Z, model  "Single Lever Transmitter" 
Un'altro AtoZ nichel plate simil Original, ma con etichetta insolita, denominata Single Lever Transmitter.
Anhoter kind of nichel plate key made by Atoz, named Single Lever Transmitter.
September 2016.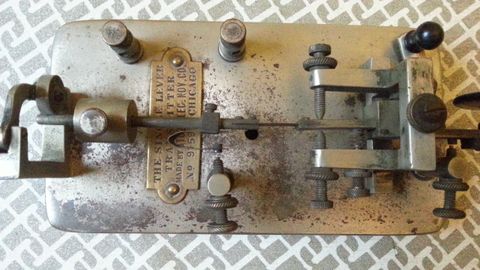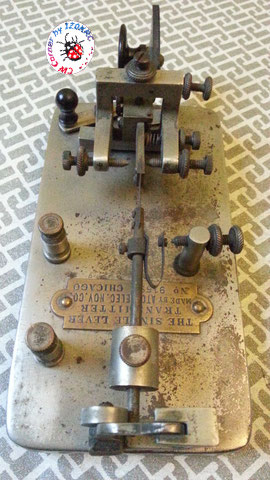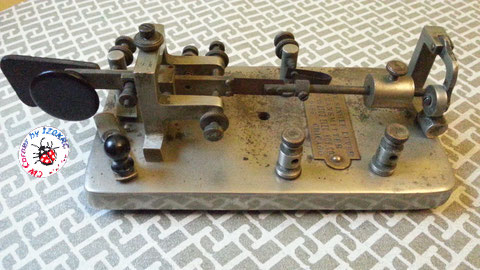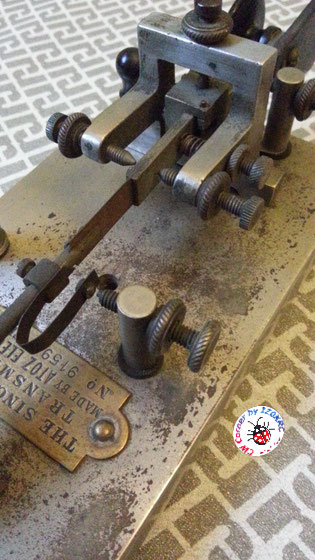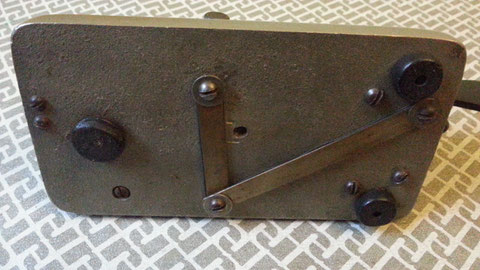 A-to-Z, with unusual round plate A/E 
Un'altro AtoZ cromato simil Original, ma con etichetta insolita, targa rotonda con scritto sopra A/E in riferimento alla società AtoZ Electric.
Evidenti sono le quattro lunghe viti utilizzate per fermare il tasto sul tavolo di lavoro.
Anhoter kind of chrome plate AtoZ key with unusual round plate with write A/E refer to teh Factory name AtoZ Electric.
Well you see the four long brass screws used to stop the bug on the work table.
October 2016.