Simplex Auto
(Leo G. Cohen)

     I've write a little article about Leo Choen and his production,

 If do you will read this article, please click here!

     I thanks Fists Club and Key-note Magazine to have allowed
     this pubblication.
 Have a nice reading, 73 de Claudio Fist Member #15937
The Simplex Auto( PMG Key)
La Simplex auto è una produzione di tasti semiautomatici sviluppata all'interno della P.M.G. (Postal Master General) che era l'equivalente delle allora nostre Poste e Telegrafi.
Inserirò di seguito le foto dei tasti che sono riuscito a trovare con dei mini accenni al periodo di produzione ed alla loro peculiarità meccanica.
Dopo le foto di rito, troverete anche l'avvincente storia del progettista Leo G. Cohen, immigrato in Australia dall'allora Prussia, oggi Lettonia, in cerca di una vita migliore.
Il resto lo troverete in due articoli scritti per Radio Rivista, organo ufficiale dell'Associazione Radioamatori Italiani e per il Key-note, periodico edito dal Fists Club.
Il Fists Club ha nella sua mission principale la preservazione della Telegrafia.
Buona visione e buona lettura.
73 de Claudio iz0krc.
The Simplex Auto (PMG Key).

 

The Simplex Auto is a production of semiautomatics keys developed within the PMG (Postal Master General) who was then the equivalent of our Italian  Post and Telegraph Office.

Insert the following photos of the keys I could find with the mini references to the period of production and their mechanical characteristics.

After the usual photos, there is also the gripping story of the designer Leo G. Cohen, an immigrant that come  in Australia from the Prussia,( now  Latvia), to search a better life conditions.

The rest you'll find it in two articles written for Radio Magazine Radio Magazine, (official magazine of the Italian Radio Amateur Club) and the Key-Note, Magazine published by Fists Club.
The Fists Club has in its main mission the preservation of telegraphy.
Thanks to A.R.I. and Fists Club to allow me to published this article.

Enjoy and happy reading.

73 de Claudio iz0krc.
Primo modello di Simplex Auto.
Nel corso della sua lunga produzione, Leo G. Cohen e la PMG sono riusciti a produrre ben 10 varianti di questo tasto, più un modello denominato De Luxe.
Quest'ultimo presenta un particolare disegno meccanico non paragonabile con i suoi "confratelli".

Se vuoi approfondire nel dettaglio l'evoluzione di questo tasto, Clicca qui! 

Il collezionista Australiano Ron McMullen descrive con dovizia di particolari la completa evoluzione di questo tasto.
Questo è uno dei primi tasti prodotti da Leo G. Cohen, ringrazio il caro amico Herman Willemsen VK2IXV, senza di lui non avrei mai avuto l'occasione di poterlo qui conservare.
First model of Simplex Auto.

 
Throughout its long production, Leo G. Cohen and PMG were able to produce as many as 10 variants of this key, plus a model called De Luxe.

The latter has a special mechanical design not comparable with its "brothers".

If you want to explore in detail the evolution of this key, click here!
 
The Australian collector Ron McMullen describes in great detail the complete evolution of this key.

This is one of the first keys produced by Leo G. Cohen, thank you dear friend Herman Willemsen VK2IXV, without  him I would never have had the opportunity to be able to keep here.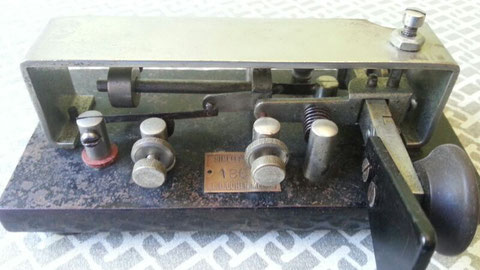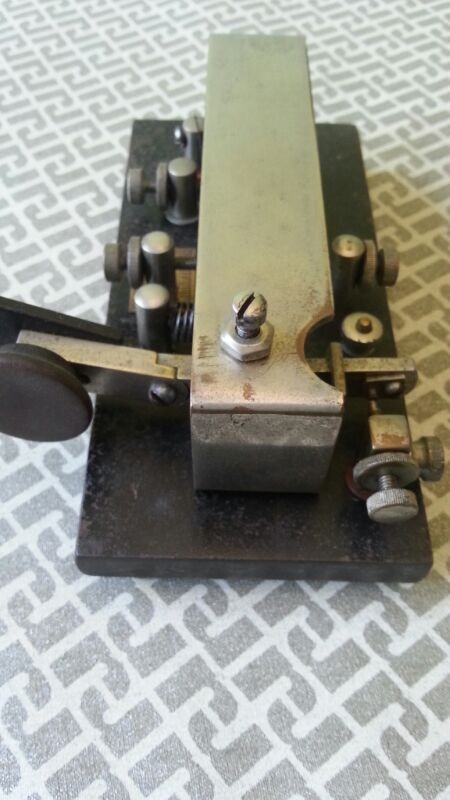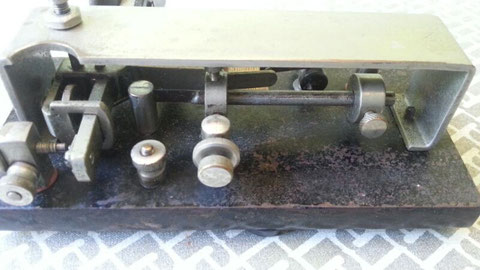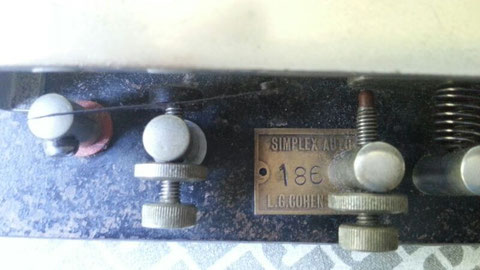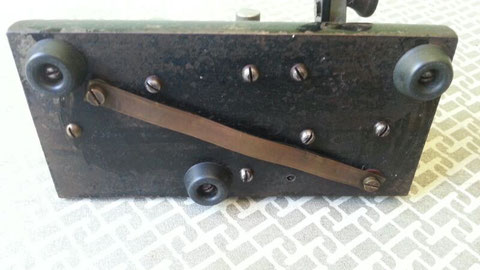 Simplex Auto #4 variante 
E' una delle tante evoluzioni di questo tasto, prodotto nei primi anni '40, finitura nichelata.

Anhoter version of Simplex Auto - Nichel plate.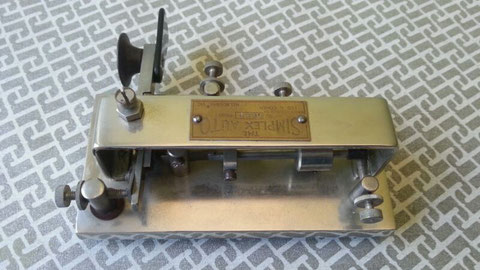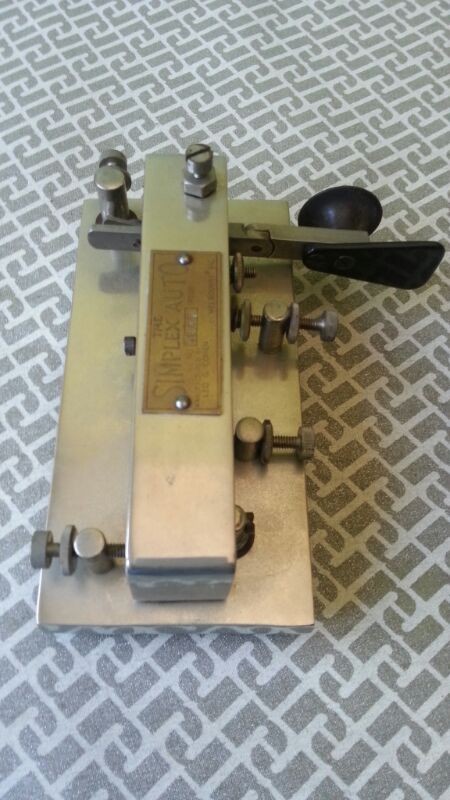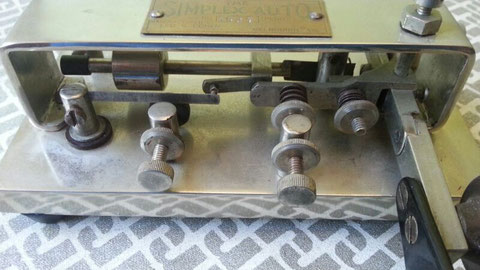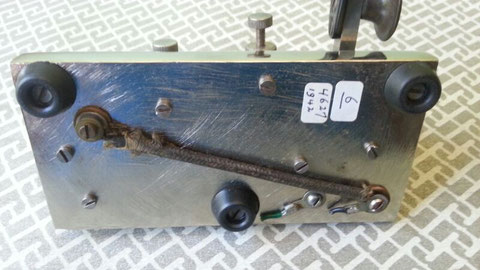 Simplex Auto, modello De Luxe.


Si tratta di un tasto che può operare sia come semiautomatico, che come tasto completamente automatico.
E' dotato di una leva posta sotto a quella principale.
La leva superiore permette di far operare il tasto come un normale bug, ma se si vogliono creare le linee in automatico, basta spostare la leva inferiore.
Ancora non riesco a comprendere perchè Leo Cohen ha prodotto questo tasto automatico ?
Anni prima Norman P. Thomas (anche lui telegrafista PMG)  brevetta e mette in produzione il famoso Automorse.
L'Automorse era quindi un tasto conosciuto ed affermato in PMG.
Forse il suo intento è stato quello di diminuire il suo ingombro e semplificando la trasmissione avvicinandolo molto di più ad un semiautomatico ?
L'Automorse presenta tre leve separate, mentre l'automatico di Cohen presenta solo due leve di comando, operando con la superiore resta in tutto e per tutto uguale ad un comune bug, con la sola aggiunta di una ulteriore tasto in basso (per le linee automatiche).
Perchè mi pongo i quesiti ?
In fine è vero, il tasto ha un design più accattivante e compatto, forse con la sua disposizionedelle leve di comando,  riesce a dare "meno impatto" all'operatore rispetto all'Automorse, ma meccanicamente (mi assumo la responsabilità di quel che scrivo) l'Automorse ha una risposta ed una solidità nettamente superiore.
Il fatto che di Simplex Auto De Luxe ve ne siano una manciata in collezione, fa si che il tasto dal punto di vista del collezionismo è considerato un tasto molto importante.
Simplex Auto, De Luxe model.

 It is a key that can operate both as a semi-automatic, or fully automatic.
it's equipped with a lever located below the main.
The upper lever allows to operate the key  as a normal bug, but if you will operate in fully automatic mode, to create lines automatically, just move the lower  brown.
 
I still can't understand why Leo Cohen produced this kind of key?
Years before Norman P. Thomas (also telegrapher PMG as Leo) patented and put into production the famous Automorse.
The Automorse was then a key known and established in the PMG.
Perhaps his intention was to reduce its footprint and simplifying the transmission bringing it closer to a more semi-automatic ?
The Automorse presents three separate levers, while the automatic of Leo Cohen presents only two control lever, the upper lever is  in all and for all equal to a common bug, with only the addition of a further lower fingherpieces (for fully automatic lines).

Why do I ask questions?
The end it is true, the S.A. De Luxe has a design more beautiful and compac than Automorse.
Perhaps with the new arrangement of lever  can give "less impact" than the operator respect of Automorse key, but mechanically (I take responsibility for what I write ) the Automorse has a response and a clearly higher solidity.
That's Simplex Auto De Luxe there are a handful of collection, it means that the key in terms of collecting remains a very important key.