To read in English, please scroll down the page, TNX!
Merrick Bug

Chi era Merrick e la sua produzione di tasti ?
Era un emigrato italiano in Canada di seconda generazione.
Nato a Toronto il 28 aprile 1917, da due genitori italiani, con due sorelle.
Giovanni Bruno Marachini (nel 1958 ha cambiato il suo nome in (Jhon Merrick), di sicuro all'epoca avere un nome anglofono aiutava molto ad integrarsi nella società Canadese.
Giovanni nel mentre inizia a lavorare nelle officine di riparazione per locomotive ferroviarie della Canadian Pacific Railway 1935, si interessa parallelamente anche alla radio appena e appena dopo la sua maturità classica, anno 1938 ricevette la sua prima licenza Radioamatoriale con il nominativo di (VE3AUB) a soli 21 anni di età .
Da qui si nota la sua particolare inclinazione alla meccanica praticata sino al 1939 ed interrotta dall'inizio del II° conflitto mondiale.
Giovanni
 si è quindi arruolato nel Royal Signal Corps of Canada 1939.
Riconosciuto come esperto telegrafista è stata incaricato del compito di istruttore.
Ha operato nelle sue attività in Belgio, Olanda e Francia, dove rimase fino alla fine della guerra. 
Giovanni
 durante il conflitto fu ferito e decorato per il suo impegno e coraggio.
Giovanni
 dopo il ferimento è stato rimandato a casa 1945, dopo circa un anno di convalescenza tra le cure premurose della sua famiglia, si iscrive all'Accademia Militare per l'Istruzione Universitaria, naturalmente optando per l'elettronica, il nuovo compito ha richiesto un enorme sforzo a Jhon, causa le scarsi basi matematiche, ma con l'aiuto delle due sorelle è riuscito a continuare nel suo nuovo mandato universitario.
Vicino all'abitazione di Jhon vi era un'impresa del settore radio la Majestic che appena dopo la fine del conflitto riapri la sua attività, 
Giovanni
iniziò la sua nuova attività come ingegnere di sistemi per Divisione Radio Mobile vi rimase a lavoro per molti anni contribuendo alla progettazione e lo studio di nuovi prototipi di grandi attrezzature di trasmissione nel campo delle VHF e della telefonia mobile, al momento in rapida espansione, questa Azienda divenne alla fine la Motorola "Canada".
Nel 1964 
Giovanni
convolò a nozze, ( come dissero le sue sorelle è stato il cielo che li ha fatti incontrare)
La moglie era un artista di talento dell'opera è 
Giovanni
sin da bambino era incline a questo tipo di arte, che insieme alla famiglia ascoltavano la musica italiana, infatti 
Giovanni
e la sua consorte andavano spesso a New York per vedere questi spettacoli al famoso Metropolitan.
Con la dipartita della consorte 1990, Giovanni  subì un duro colpo, si ritiro dalla sua casa ad in un grattacielo, lì predispose una stanza con un imbottitura al pavimento dove installò il suo piccolo tornio e le frese cercando di tenersi occupato con la costruzione di strumenti telegrafici che poi lui ha spedito in tutto il mondo.
Giovanni
 non ha mai pubblicizzato la sua produzione di tasti, ma le numerose richieste pervenivano a lui con il passaparola sui suoi ottimi e particolari prodotti . In quel periodo richiese una nuova patente e diventò di nuovo attivo come HAM con il nuovo nominativo di VE3AWA, attivo soprattutto in CW sui 40 metri.
Gli ultimi dieci anni di jhon lo hanno visto seriamente preso con i problemi ereditati dalla vecchia ferita di guerra, dovette sopportare u nnuovo intervento chirugico a cui si sommarono altri problemi fisici legati all'invecchiamento.
Il 2 marzo 2005 chiamo con urgenza il 911 (numero di emergenza sanitaria nazionale), riuscirono a portarlo in Ospedale ma privo di conoscenza, morì lo stesso giorno all'età di 86 anni.
Jhon Merrick lascia un figliastro Donald, Inegnere e  Radioamatore oltre che amante della buona musica come il papà.
Giovanni Bruno Marachini ha lasciato un vuoto che viene in una minima parte colmato dai suoi strumenti, i quali portano speranza gioia ed orgoglio agli appassionati per gli anni a venire. "Sic transit gloria mundi".
Come noto di costruttori italiani di bug all'epoca ve ne erano molti pochi, e bene Giovanni Bruno Malachini è un italiano trapiantato in terra Canadese che grazie alla sua precisione e alla sua passione per l'arte e la telegrafia a saputo mantenere alto il livello ed il nome degli immigrati italiani in terra straniera.
Un plauso ad un piccolo grande uomo.
Tutto quello che avete letto sopra, io l'ho trovato in rete dopo una ricerca su chi era WE3AWA, e per poterlo tradurre ho chiesto l'autorizzazione al proprietario del sito Mr. Tom K4VIZ, devo quindi qui ringraziare Tom per la gentile concessione.
Con l'occasione ho anche avuto modo di entrare in contatto con Mr. Tom il quale mi confermava che Giovanni Marachini era per l'epoca un raffinato gentiluomo che lo aveva ispirato nella creazione dei suoi famosi Tasti i VIZKEY per l'appunto.
Si nota come il design dei VIZ-Key sono di fatto una prosecuzione dell'estro di Bruno Marachini.
Se avete la curiosità di vedere l'attuale produzione di Mr. Tom K4VIZ cliccate all'indirizzo sotto :
La vita di Jhon Merrick WE3WRA è una libera traduzione in lingua italiana, per gentile concessione di K4VIZ e tratta dal sito di K4VIZ http://vizkey.com/ve3aub.html
Dicembre 2012
The page write here and dedicate to the life of Mr. Merrick and her production, is a simply translation of page write by Mr Tom K4VIZ.
Tom kindly authorized me to translate this in italina languagge.
If you have cousiosity to read more of Mr. Merrick and her Keys, please click here !
Mr. Tom K4VIZ, have a production of Key and bugs, if you want see this production, please click here !
Tanks for your attention.
Dicember 2012.
La produzione di Merrick
Cosa e quanti tasti ha prodotto Merrick ?
Questo non si sà, non cè una sorta di libro registro della produzione o delle traghe o matricole sui tasti, Jhon li produceva e li vendeva così "nudi".
Quello che si sà è che ha prodotto almeno 3 diversi modelli di Tasti.
Un semiautomatico sul modello Vibroplex;
http://www.kk4dw.com/MERRICK%20BUG.jpg 
(collezione KK4DV ex Murray Willer)
Un Angolo retto, come quello sotto proposto.
MerricK right angle Bug
Appena arrivato mi ha impressionato per la sua ridotta dimensione.
Se confrontato con gli altri Bug, sembra una via di mezzo tra un bug normale ed una miniatura, lo possiamo classificare come medium bug.
Misura 105 mm di lunghezza per 50 mm di larghezza per un peso di 1,1 Kg. di solido ottone.
Il tasto è protetto con uno strato trasparente di vernice eppossidica, si nota la precisione della fattezza e nello stesso tempo la mano artigiana di chi lo ha prodotto.
Anche i paddle sono stati torniti a mano con un unico design.
Non ho al momento al confronto altri Tasti di Merrick ma  sono sicuro che vi sono di certo delle piccole differenze tra un tasto è l'altro, si vede che tutto è stato costruito a mano, non vi sono stampi o viti seriali, tutto è stato prodotto con tornio frese con ingegno ed impegno da Mr. Merrick, alias Giovanni Bruno Marachini.
Alla fine ho inserito la foto di confronto tra il Bug ed una batteria ministilo AA.
Si nota che si tratta di un piccolo tasto, quasi portatile, che nella sua semplicità riesce ad operare molto bene, ha un ampio margine di regolazione sulla velocità di trasmissione e risalta la sua metrica sopratutto a basse velocità.
Dicembre 2012.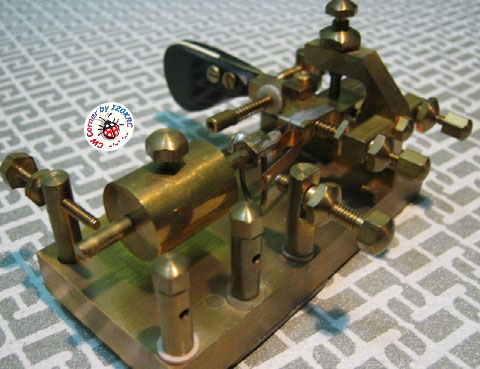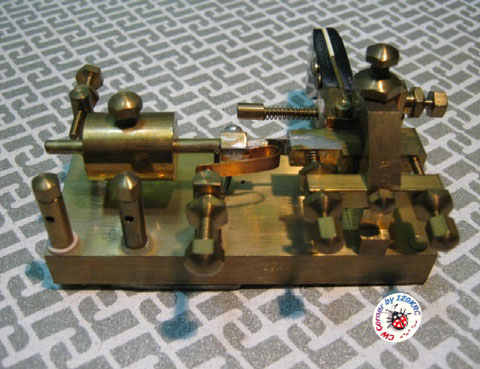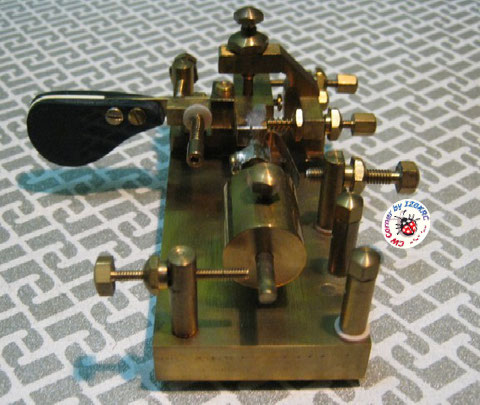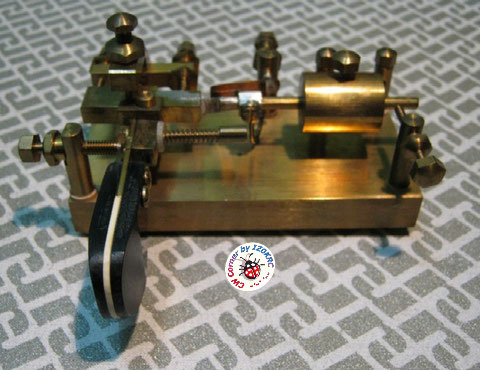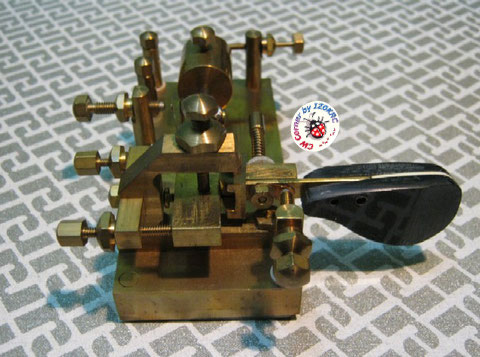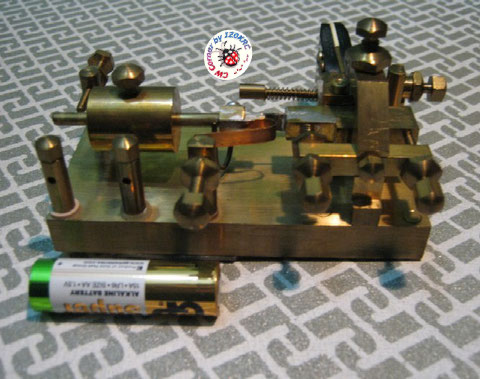 Who was Merrick and his production of keys?
He was an Italian immigrant in Canada's second generation.
Born in Toronto April 28, 1917, by two Italian parents, two sisters.
John Bruno Marachini (in 1958 changed its name to (Jhon Merrick), for sure at the time to have a name very Anglophone helped to integrate into Canadian society.
John began working in while in repair for railway locomotives of the Canadian Pacific Railway in 1935, is interested in parallel on the radio soon and just after his high school, year 1938 received his first amateur radio license with the name of (VE3AUB) to just 21 years of age.
From here you can see its tendency to mechanics practiced until 1939 and interrupted the start of the Second World War.
John
he then enlisted in the Royal Signal Corps of Canada in 1939.
Recognized as an expert telegrapher was entrusted with the task of instructor.
Has operated in its activities in Belgium, Holland and France, where he remained until the end of the war.  
John
during the conflict was wounded and decorated for his commitment and courage.
John
after injuring was sent home in 1945, after about a year of convalescence among thoughtful care of his family, he enrolled at the Military Academy for University Education, of course opting for electronics, the new task required a huge effort to Jhon, because the poor mathematical basis, but with the help of the two sisters was able to continue in his new mandate university.
Near the house of Jhon there was one company in the Majestic radio that just after the end of the conflict reopen his business,
John
began his new business as a systems engineer for Mobile Radio Division remained at work for many years contributing to the design and study of new prototypes of large broadcast equipment in the field of VHF and mobile telephony, currently expanding rapidly, this company eventually became the Motorola "Canada".
In 1964
John
wed, (as they told her sisters was the sky that brought them together)
The wife was a talented artist's work
John
as a child he was prone to this type of art, which together with the family listened to Italian music, in fact
John
and his wife often went to New York to see these shows at the famous Metropolitan.
With the departure of his wife in 1990, John was hard hit, he retired from his house to a skyscraper, there arranged a room with a padded floor where installed his small lathe and milling cutters trying to keep busy with construction tools telegraph which he then shipped worldwide.
John
has never advertised its production of keys, but the numerous requests were received by him by word of mouth on his excellent and special products. At that time required a new license and became active again as HAM with the new name of VE3AWA, active mainly in CW on 40 meters.
The last ten years have seen jhon taken seriously with the problems inherited from the old war wound, had to endure u nNew-surgical to which were added other physical problems associated with aging.
On 2 March 2005 an urgent call 911 (number of national health emergency), but managed to take him to hospital unconscious and died the same day at the age of 86 years.
Jhon Merrick leaves a stepson Donald, Inegnere and amateur radio as well as a lover of good music like his dad.
John Bruno Marachini has left a vacuum that is filled by a fraction in its tools, which bring hope and joy to fans pride for years to come. "Sic transit gloria mundi."
As known to Italian manufacturers of bugs at the time there were very few, and well Malachini John Bruno is an Italian transplanted Canadian who on earth because of its accuracy and its passion for art and telegraphy been able to maintain a high level and the name of Italian immigrants in a foreign land.
A praise to a great little man.
All you have read above, I have found the net after a search on who was WE3AWA, and to translate it I asked permission to the site owner Mr. Tom K4VIZ, so here I must thank Tom for permission.
On this occasion I also had the opportunity to get in touch with Mr. Tom which I confirmed that John Marachini was for its time a refined gentleman who had inspired him in the creation of his famous Keys the VIZKEY precisely.
You notice how the design of VIZ-Key are in fact a continuation of oestrus Bruno Marachini.
If you have the curiosity to see the current production of Mr. Tom K4VIZ click the address below:
Life Jhon Merrick WE3WRA is a free translation into Italian, courtesy of K4VIZ and from the site of K4VIZhttp://vizkey.com/ve3aub.html
December 2012
The page write here and dedicated to the life of Mr. Merrick and her production, is simply a translation of page write by Mr. Tom K4VIZ.
Tom kindly authorized me to translate this into italina languagge.
If you have cousiosity to read more of Mr. Merrick and her Keys,please click here!
Mr. Tom K4VIZ, have a production of Key and bugs, if you want see this production, please click here!
Tanks for your attention.
Dezember 2012.
The production of Merrick
What and how many keys produced Merrick?
This time no one knows, there is not a sort of log book of output or traghe or freshmen on the keys, Jhon produced them and sold them as "naked".
What one knows is that it has produced at least three different models of keys.
A semi-automatic model Vibroplex;
http://www.kk4dw.com/MERRICK%20BUG.jpg
(Collection KK4DV former Murray Willer)
A Right Angle, like the one below.
Merrick right angle Bug
Upon arriving I was impressed by its small size.
Compared with other Bug, seems a cross between a bug and a normal miniature, we can classify as medium bug.
Measuring 105 mm long by 50 mm wide for a weight of 1.1 Kg. Of solid brass.
The key is protected with a transparent layer of paint eppossidica, we note the accuracy of the fattezza and at the same time the hand of the artisan who has produced it.
Even the paddle were turned by hand with a unique design.
I do not have the time to compare other keys Merrick but I'm sure there are some small differences between the keys is the other, you see that everything has been built by hand, there are no tools or screws serial, or is tutt was produced with the lathe cutters with ingenuity and commitment from Mr. Merrick, aka John Bruno Marachini.
Eventually I put the photo of confrontation between the Bug and a battery AAA AA.
We note that this is a small key, almost portable, which in its simplicity is able to operate very well, has a large degree of control on the transmission speed and stands its metric especially at low speeds.
December 2012.