To read in English, please scroll down the page. TNX!
Paul Dow.  
Dow Key modello Junior.

Paul Dow ritiratosi dal lavoro di Telegrafista, inizia a produrre il suo primo tasto semiautomatico il modello Junior, così denominato dai collezionisti  per la netta similitudine con la produzione Vibroplex, anche se è bene precisare che i Dow key non sono come resa uguali ai Vibroplex, ma superiori.
Clicca qui per vedere le differenze.
Mi assumo tutta la responsabilità di quello che scrivo, ma Paul Dow, estroverso progettista e produttore di chiavi, non si è limitato a sviluppare il semiautomatico adottando per primo, forse inconsciamente, il concetto di ergonomia.
Ergonomia ben rappresentata con il Dow Bent, modello con frame inclinato in modo da assume la medesima angolazione del polso dell'operatore.
Ritornando però al modello Junior, affermo sicuro di non avere smentite che uno tra i migliori tasti semiautomatici prodotti.
Opera in modo egregio anche nelle mani di un telegrafista inesperto come lo sono io.  Provare per credere.
Il modello Junior sotto esposto è uno dei primi costruiti da Paul Dow, in quanto sprovvisto di etichetta e numero seriale.
Tasto completo ed in perfette condizioni, ringrazio il precedente proprietario (Mr. Colin Waters G3TSS) per aver mantenuto questo gioiello in condizioni ottime, come se fosse uscito oggi dall'Officina Dow.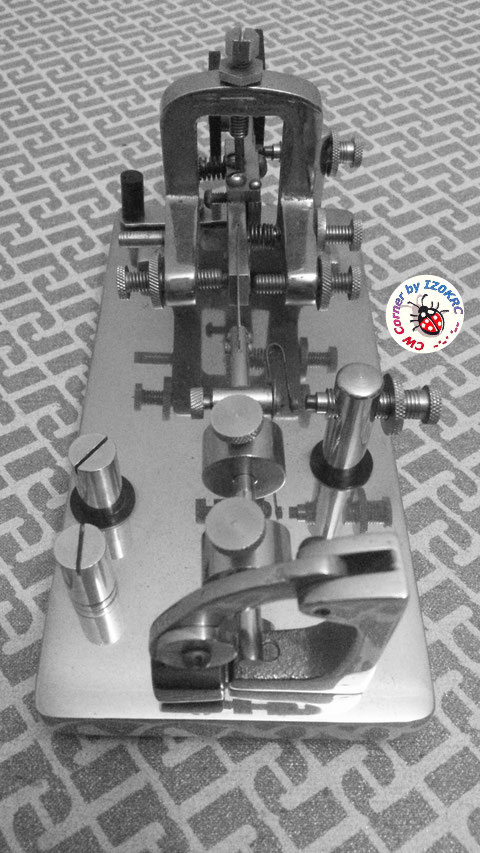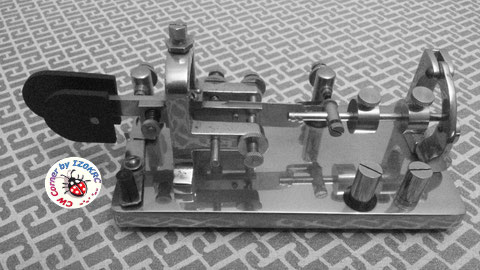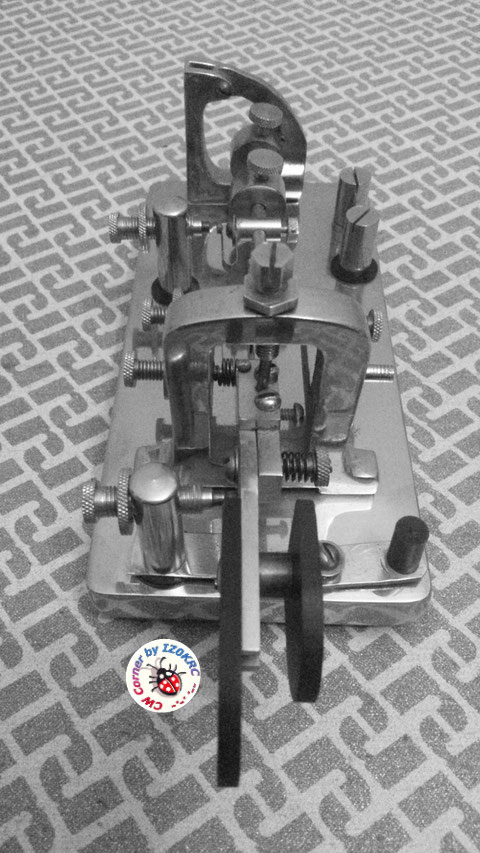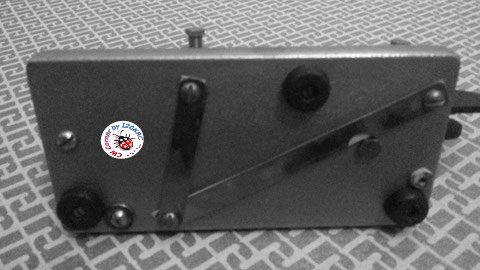 The junior Model - Dow Key.
 Paul Dow retired from the work of telegraph operator and began to produce his first semi-automatic key, the Junior model, so named by collectors for the distinct similarity with the Vibroplex production, although for my side is better to explain that the Dow keys aren't similar of Vibroplex models, It's are superior of them.

I take full responsibility for this write, but Paul Dow, outgoing designer and manufacturer of keys, you are not limited to developing semiautomatic taking first, perhaps unconsciously, the concept of ergonomics.
Click here, to see well the improved difference .

Ergonomics is well represented with the Dow Bent model with tilted frame to take the same angle of natural position of the fist operator.

Returning to the model, however, Junior, I say sure you do not have denied that one of the best semi-automatic key products.

Work so egregious even in the hands of a telegrapher inexperienced as I am.

Just try it.

Junior model outlined below is one of the first built by Paul Dow, as it does not have a label and serial number.

Key complete and in perfect condition, thank the previous owner (Mr. Colin Waters G3TSS) for keeping this gem in great condition, as if it were released today by the Workshop Dow.
October 2014.