To read in English, please scroll down the page, TNX!

Eddystone

Un ottimo Bug di costruzione Inglese, L'Eddystone mod. S 689 è stato prodotto nel 1948 con un primo lotto di 250 esemplari, nel 1949 si partì per produrne un altro lotto di 250 tasti, ma la produzione si fermo a cento esemplari, per la mancanza di ordinativi.
Nel 1952 ne fù prodotto un lotto dietro ordine specifico del Signor Chas H. di Birmingham, questi ultimi tasti sono riconoscibili dai primi 350 prodotti, in quanto sono privi del numero seriale di produzione.
Questo bug è uno degli ultimi prodotti.
Il perchè della scarso successo di vendita a fronte di un eccellente bug in termini progettuali e di uso credo che sia da ricondurre a due fattori.
Il primo e più importante è che il periodo di piena espansione delle comunicazioni via telegrafo era orami in fase di declino, la seconda è perchè un Bug prodotto eversea aveva dei maggiori costi dovuti all'importazione, non dimenticando che il mercato più vasto era concentrato in Nord America.
Un ottimo approfondimento lo trovate qui :
http://www.morsekey.net/eddystone.html
Luglio 2012.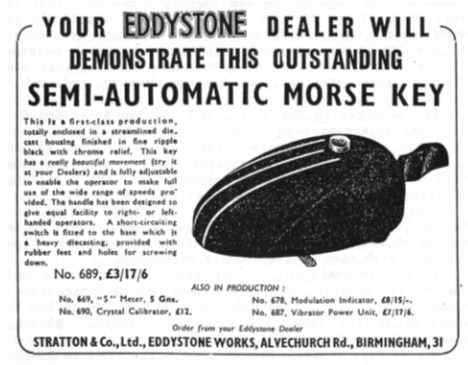 A great Bug construction English, The Eddystone mod. S 689 was produced in 1948 with an initial batch of 250 units, in 1949 he set off to produce another batch of 250 keys, but production stopped a hundred specimens, for lack of orders.
In 1952 he was product a lot behind specific order of Mr. Chas H. Birmingham, these keys are recognizable from the first 350 products, as they are free of the serial number of production.
This bug is one of the latest products.
The limited success because of the sales in the face of an excellent bug in terms of design and use think it is due to two factors.
The first and most important is that the period of booming communication by telegraph was also well in decline, the second is because a Bug product Eversea had higher costs due to imports, not forgetting that the broader market was concentrated in North America.