To read in English, please scroll down the page. TNX !
Vibro-mors

VIBRO MORS  Type A
Il Vibro mors è un tasto semiautomatico francese con un'affascinante storia.
Dopo lo sbarco di Normandia avvenuto il 6 giugno del 1944  il Signal Corps Statunitense ha  "sbarcato" anche gli strumenti d'ordinanza tra cui i famosi tasti modello j-36 come il Lionel o i Vibroplex.
Alcuni di questi bug militari sono entrati per vie traverse nel circuito del "mercato nero" e venduti a Parigi.
La scuola Radio Francese, sita in rue de la Lune sfornava molti operatori radio telegrafisti, questi giovanotti avevano sempre sentito parlare di questi famosi bug,  ma per loro era quasi impossibile poterne acquistare o solo anche vederne uno dal vivo.
I motivi di questa limitazione erano molteplici.
la scarsità degli scambi commerciali, l'alto costo di acquisto unito alle spese di spedizione e sdoganamento , la coincidenza del periodo pre e post bellico che ha decretato una ristrettezza nelle possibilità economiche dei più .
Un 'espediente per limitare i costi poteva essere quello di acquistare il tasto nei Territori d'Oltremare più vicini agli USA, ma anche questa strada rimaneva una pura chimera.
Con questo scenario alcuni operatori ed amatori, si mise in contatto con un rivenditore il "Radio-Lune",  sito nella medesima via della scuola Radio Francese, rue de la Lune e ncosì nei primi anni '50 apparve il Vibro-mors.
Se notate la targa riporta Vibro mors type A, as oggi sembra che esista solo questo modello.
Non si conosce chi abbia materialmente costruito questi tasti, ne quanti tasti siano stati prodotti.
L'unica cosa che si conosce è il suo rivenditore "Radio Lune".
Come opera questo francesino ?
Nel modo migliore e sopra ogni aspettativa.
Sono rimasto positivamente colpito dalla precisione e sicurezza che offre questo tasto durante la trasmissione.
A prima vista ho pensato , con un dumper così semplice ….. forse troppo semplice!
E' formato da una colonna con in testa una rondella che pressa un o'ring che fa la funzione di ammortizzatore, credetemi solo questo mi aveva fatto pensare che poi questo Vibro-mors non poteva operare egregiamente.
Il progetto meccanico non è rivoluzionario, però l'impianto presenta delle dimensioni non comuni ai tasti americani, gli spessori del pendolo e della leva di comando (più generosi) ne fanno un gioiellino che consiglierei, ad un amante del genere, di portarlo con voi a casa.
Sono sicuro che non ve ne pentirete.
73 de Claudio J
Novembre 2013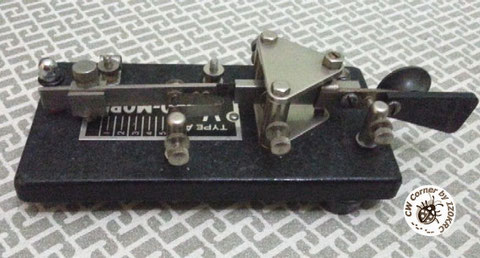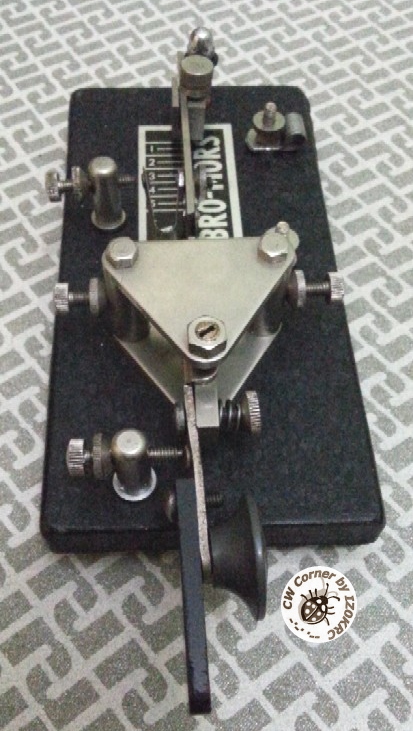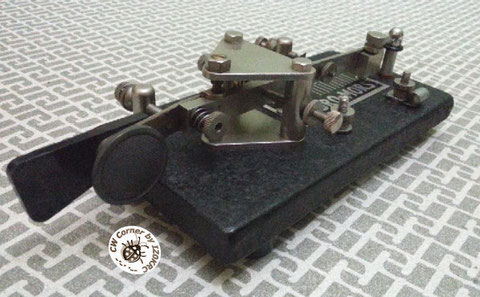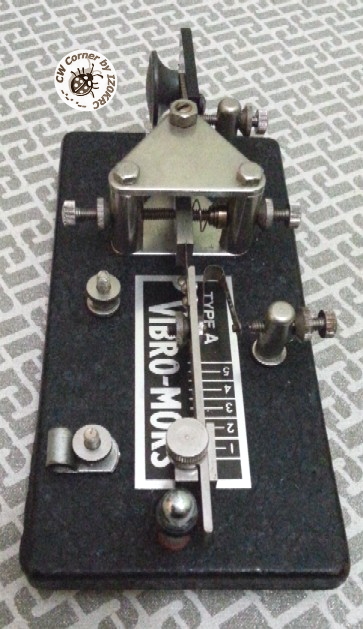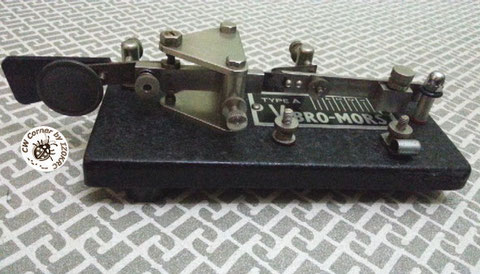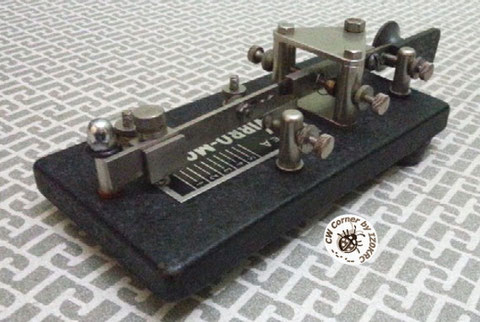 VIBRO MORS  Type A
The story under described has been taken from the memories of F5NQL Mr. Maurice, told by Jhon Morsemad site at the following address:
http://www.morsemad.com/bugs.htm
The story of the Vibro Mors was short. When the US signal Corps came to Normandy after the June 6th 1944 landings, they brought some bugs made by Lionel and Martin's Vibroplex, some were sold on the black market to European op's. In Paris, there was the French School of Radio in the rue de la Lune. A lot a of CW operators issued from this school had heard about the bugs but it was quite impossible to find one, and buying them from the States plus customs fees was costly, even when purchased through the free taxes French Overseas Territories". "So some operators and amateurs, got in touch with "Radio-Lune", a Radio Store, in the same rue de la Lune and around the 50's appeared the Vibro-mors. It seems that only one model exists, the Type A. No information were given about the constructor, even to day we know the seller not the fabricant. 
How does work this french bug ?

In the best way and best of all expectations.
I was impressed by the accuracy and security that this key offers during transmission.

At first time I thought, "with this simple dumper ..... perhaps too simple ??"
It 'consists of a column that have in top a screw that presses an o'ring with function of shock absorber, this only made me think then that this Vibro mors could not operate very well.

The mechanical design is not revolutionary, but the plant has the size not common to the Americans keys, the thickness of the pendulum and of the control lever (more generous) make this a gem that I would recommend, to a passionate of bug, take it with your home.
I'm sure you will not regret it.
73 de Claudio J
November 2013.