To read in English, please scroll down the page. TNX!
Mecograph Combo #02 - 1905
Il modello Combo e composto da una grossa base, al di sotto sono contenuti i meccanismi ed i contatti dei due tasti che lo compongono, un classico verticale con al fianco un Bug.
Anche la casa D&K ha prodotto un tasto analogo.
Le due case erano entrambe situate a Cleveland e forse diversi lavoranti hanno avuto ruoli in entrambe le società.
Sta di fatto che ci sono altre analogie tra il Dinger ed il Mecograph #05.
Perchè produrre un Combo ?
Non dimentichiamo che il Bug era stato inventato appena l'anno prima e magari per ampliare le vendite e rompere gli indugi dei telegrafisti più conservatori hanno pensato a costruire un tasto che forniva loro entrambe le soluzioni.
Un utile espediente per far iniziare al bug i telegrafisti meno sicuri.
Seguendo la numerazione seriale è possibile stabilire che ne siano stati prodotti circa un centinaio anche se ad oggi se ne conoscono solamente 3 esemplari.
E' bene stabilire che non ho questo raro Bug, ma ne dedico una pagina per completare sul sito la produzione Mecograph.
La foto sotto è disponibile nel CD Gil Scheleman collection K9WDY, per gentile concessione del Prof. Tom Perera W1TP.
10 Agosto 2017.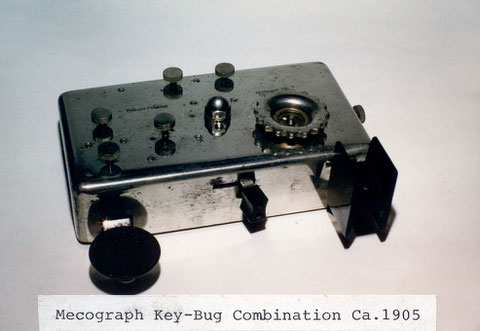 Mecograph Combo #02  - 1905 
The Combo model have large base, below are the mechanisms and contacts of the two Keys. It composed with a classic vertical key and a Bug.
The D & K factory also produced a similar key .
The two factoryess were both located in Cleveland OH and perhaps several workers had roles in both companies ?
There are other similarities between Dinger and Mecograph as Mecograph #05 key.
Why Produce a Combo?
Let's not forget that the Bug had been invented one year before and maybe to expand sales, they thought to build a key that provided both solutions, a useful expedient to start the less secure telegraphs for use the Bug.
Following the serial numbering it is possible write that Mecogprah produce aprox. one hundred of Combo key, although today only 3 of this are known in collections.
It's good to make sure I don't have this rare Bug, but I dedicate this page to complete the Mecograph production in my site.
The picture below is available on the Gil Scheleman collection CD K9WDY, courtesy of Prof. Tom Perera
10 August 2017