To read in English, please scroll down the page, TNX!
THE LYTLE TRIPLEX


The Lytle Triplex key
Il Lytle Triplex è un tasto prodotto in alcune decine di esemplari dalla Società "Termometri di precisione e strumenti" di Philadelphia da Walter Lytle, con brevetto rilasciato il 21 giugno 1921 dal suo Inventore e proprietario della omonima Società Walter Lytle.
Il Lytle Triplex è uno dei primi tasti semiautomatici nati dopo la decadenza dei brevetti Vibroplex, raro da trovare.
Il tasto è chiaramente un semiautomatico, con il medesimo principio del pendolo vibrato, ma con una caratteristica unica che lo distingue da tutti gli altri tasti.
La configurazione standard di un semiautomatico standard era in versione destra, rari i sinistri, costruiti dietro ordine speciale, il Lytle Triplex con il suo innovativo sistema di rotazione permette di girare la leva con un semplice movimento, diventando un semiautomatico destro o sinistro, oppure,  a seconda dell'esigenza del momento anche un semplice tasto verticale .
Un sistema che è poi stato ripreso nel tempo da Paul Dow con il suo Universal bug
Per modificare la modalità di funzionamento basta tirare indietro un perno di bloccaggio caricato da una molla per svincolare il "frame" di forma rotonda lasciandolo libero di ruotare.
La chiave è in ottone laccato trasparente, la base è un solido blocco di ottone tornito al di sotto per permettere la distribuzione dei contatti. Un vero trionfo della meccanica di precisione.
16 Aprile 2017.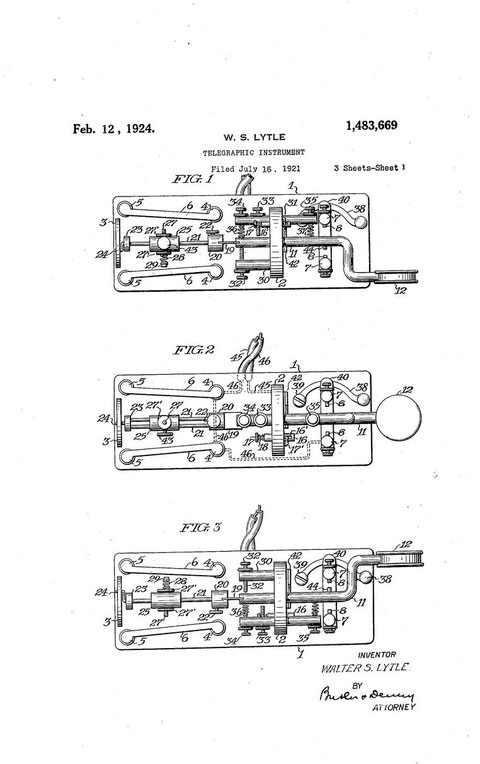 This Lytle Triplex is a rare key product in dozens units from the Company "Precision thermometers and tools" of Philadelphia, Walter Lytle is the owner of Fatocry and He ask patent 21 June 1921 for this key.

This Lytle Triplex is one of the first semi-automatic keys born after the end of Vibroplex patents.

The key is clearly a semi-automatic, with the same principle of the pendulum vibratumit have a unique feature that sets it apart from all other keys.

The standard configuration of a standard semi-automatic was in the right version, rare claims, constructed by special order. The Lytle Triplex with its innovative rotation system makes it possible to turn the lever with a simple movement, becoming a right semiautomatic or left, or vertical key, depending on the need of the moment.

This kind of system that was subsequently taken over time by Paul Dow with its Universal bug.

To change the mode of operation just pull back a locking pin loaded by a spring in order to disengage the "frame" of round shape leaving it free to rotate.
 
The key is made all brass with transparent lacquered over, the base is a solid block of brass machined below to allow the distribution of contacts. A triumph of precision mechanical.
16 April 2017
The Lytle Triplex key
The Lytle Triplex key
The Lytle Triplex key
The Lytle Triplex in right version
The Lytle Triplex in vertical version
The Lytle Triplex in left version
The Lytle Triplex plate
The Lytle Triplex, particular of the rotate system