To read in English, please scroll down the page, TNX!

Mc Elroy P-500 Model
P-500 modello.
Con il modello P-500 il McElroy bug è diventato simile a tutti gli altri tasti semiautomatici. La base e la struttura sono costruiti con finitura vernice in "crackle nero".
Si legge nella rete che questo bug ha perso il fascino dei precedenti modelli costruiti dalla casa, diventando simile agli altri con nulla che lo contradistingue se non per la targhetta con la scritta McElroy. 
 Non è poi tutto vero, infatti rimane sempre un ottimo bug, con una base larga e solida che evita di far scivolare dal tavolo il tasto durante la trasmissione, conserva sempre le ottime grandi viti di regolazione, è solo che per poter "combattere" la concorrenza Teodor Mc Elroy ha deciso di semplificare i suoi bug, tutto qui è stata più un'evoluzione dettata dal mercato dell'epoca.

Il P-500 ha subito delle modfiche nel corso della sua produzione, il modello destinato al Singal Coprs aveva una base nera goffrata (crackle), il telaio di supporto al pivot del braccio in finitura cromata.
Nel corso del tempo la base è stata prodotta con una finitura liscia di colore grigio mantenendo il telaio di supporto del pivot cromato, cambiando il nome in CP-500, cambiato poi in 500-742.
Questo tasto non ha numeri di serie.
Da quel che ho visto dpo averlo tirato fuori dal pacco è che è un tasto che ha lavorato poco, sembra come nuovo.
Il modello in foto è un P-500 special order, in quanto ha un insolito colore bianco dato sopra ad una base nera crackle.
Vista l'unicità del colore ne sono nati dei dubbi così o chiesto a chi mi ha venduto il tasto se lui ne conosceva la storia o la provenienza.
Il venditore molto gentilmente mi ha risposto che il tasto era di proprietà di suo nonno che è venuto a mancare pochi mesi prima, che lo aveva sempre tenuto gelosamente insieme agli altri tasti.
Avevo anche chiesto specificatamente com'è che il tasto aveva questo insolito colore bianco, se era originale oppure se era stata un'alterazione fatta successivamente ?
Ma mi è stato risposto che il nonno non ha mai alterato o modificato i suoi tasti, ma mantenuti sempre originali, in quanto erano stati parte del suo lavoro ex RT della Signal Corps decorato con onore per aver partecipato sul fronte Pacifico durante il II° conflitto mondiale, e di aver continuato poi come istruttore telegrafico sempre nel Signal Corps.
Mi dice anche che quel tasto è stato acquistato nuovo dal nonno e che lui ed anche i suoi genitori ricordano di averlo visto sempre di colore bianco.
Mi hanno aggiunto che il loro nonno si chiamava Robert W.k, ma che non si ricordavano l'esatto nominativo di radioamatore, che poi io ho ritrovato in rete come W0JPN.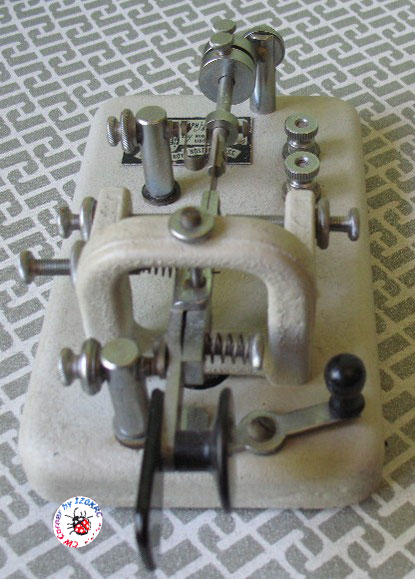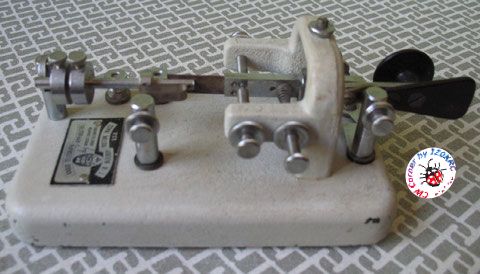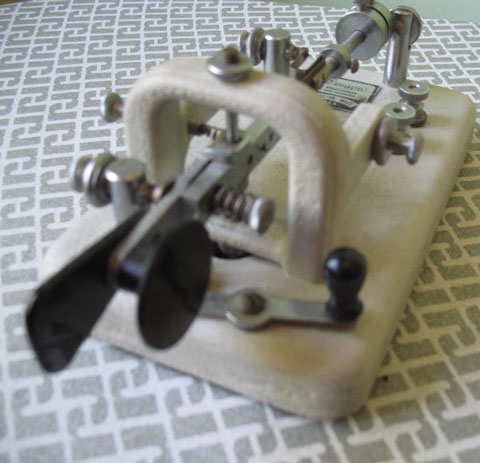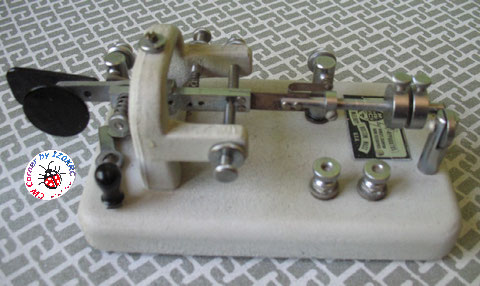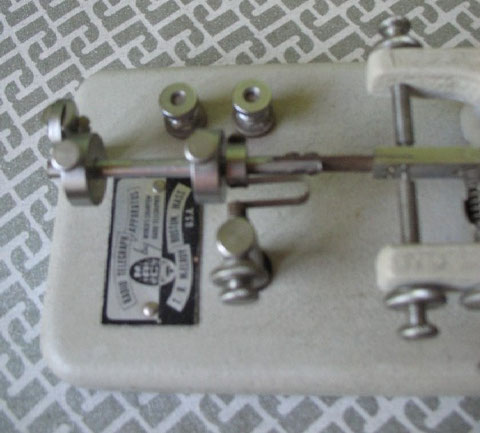 P-500 model.
 With the P-500 the bug McElroy has become like all the other keys semiautomatic. The base and structure are built with paint finish in "crackle black."
Reads the network that this bug has lost the charm of earlier models built from the house, becoming similar to the other with anything that contradistingue except to the plate with the inscription McElroy.
It's not entirely true, it is always a good bug, with a wide base and solid that avoids slide off the table the key during transmission, always retains the excellent big adjustment screws, it's just that in order to "fight" the competition Teodor Mc Elroy has decided to simplify its bugs, everything here has been more of an evolution dictated by the market of the time.

The P-500 has undergone some changes need in the course of its production, the model intended to Singal coprs had a black embossed (crackle), the support frame to pivot arm in chrome finish.
Over time the base was produced with a smooth gray maintaining the support frame pivot chrome, changing the name to the CP-500, then changed into 500-742.
This key does not have serial numbers.
 From what I've seen dpo have it pulled out from the pack is that it is a key that worked little, looks like new.
The model in the picture is a P-500 special order, as it has an unusual white color given over to a black base crackle.
Given the uniqueness of the color they were born of doubt or so asked who sold me the key if he will consoceva history or provenance.
The seller very kindly told me that the key was owned by his grandfather who passed away a few months before, which had always kept jealously together with the other keys.
I had also asked specifically how it is that the key had this unusual white color, if it was original or if it had been an alteration made later?
But I was told that his grandfather has never altered or modified his keys, but always kept the original, as it had been part of his work of the former RT Singal Corps decorated with honor for his participation on the Pacific front during the war II world, and He then continued as an instructor telegraphic always in Signal Corps.
also said that key was purchased new by his grandfather and that he and his parents also recall seeing him always white.
They added that their grandfather's name was Robert Wk, but
that did not remember the exact name of amateur radio, then I've found on the net as W0JPN.