First Coffe Mecograph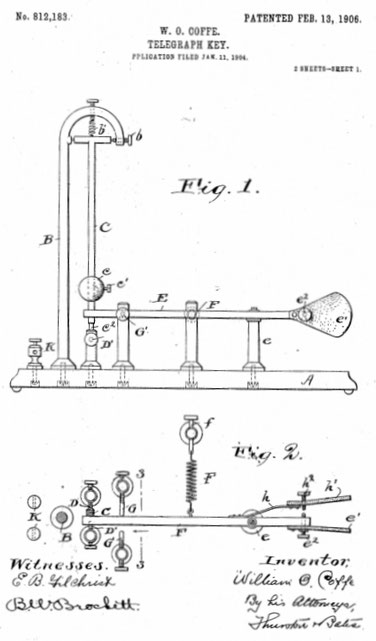 First Coffe Mecograph - 1904
Il primo tasto meccanico semiautomatico.
William O. Coffe presenta per il suo tasto semiautomatico completamente meccanico nel Gennaio 1904, pochi mesi prima del brevetto di Horace Martin.
Il Coffe si differenzia in via sostanziale da tutti gli altri Bug prodotti.
Il First Coffe sfrutta un pendolo verticale con il sistema di tensione a rilascio, sistema molto apprezzato ed utilizzato  dalla Mecograph. Vibroplex utilizzerà invece un pendolo orizzontale con il sistema della vibrazione controllata.
Bellows, proprietario della mecograph produceva già apparati e parti telegrafiche, entra subito in affari con O.Coffe ed inizia cosi la produzione del primo Bug, anche se in realtà produrranno pochi esemplari.
Vibroplex cita in giudizio la Mecograph sui diritti di brevetto, perdendo la causa ed aprendo così una lunga guerra commerciale.
Di First Coffe originale se ne conosce solo due, uno è di W5AY, incompleto e non funzionante.
Il secondo First Coffe è stato ritrovato nel 2012 in USA.
E' straordinario che a distanza di oltre 100 anni si riesca ancora a trovare dei tesori nascosti.
Posso immaginare lo stato d'emozione che ha avuto il fortunato scopritore.
Solo per correttezza cronologica inserisco qui una copia unica del primo Coffe, il primo semi-automatico brevettato e costruito al mondo dalla Mecograph sul progetto di W.O. Coffe.
Quello qui esposto è una copia fedele, gentilmente prodotta da Mr. Ron G3YUH dietro mia specifica e pressante richiesta....
Per vedere il tasto nei minimi dettagli, vi rimando alla pagina dedicata alle creazioni di Ron Ayling aka G3YUH.
Articolo introdotto nel 2012 e modificato nel 2017 
First Coffe Mecograph - 1904.
The first mechanical semiautomatic key, patented by William O. Coffe in Jennuary 1904, just few months before Horace Martin's patent.
First Coffe bug differs from all other Bug products, because use a vertical pendulum with the tension release system, a highly appreciated system used in other Mecograph production.
Vibroplex will instead use a horizontal pendulum with the controlled vibration system.
Bellows purchases O.Coffe's patent to enter in Bug production, but will actually produce few number of Fisrt Coffe.
Vibroplex cites Mecograph for patent rights, losing the cause and thus opening up a long commercial war.
Today are know only two original First Coffe, one is in hand of W5AY, uncomplete and not working.
The second First Coffe was found in 2012 in the US.
It 'amazing that after more than 100 years can still find hidden treasures.
I can imagine the state of emotion that had the fortunate discoverer. 
Just to correct chronological insert here a unique copy of the First Coffe, the first semi-automatic patented and manufactured arround the world, is Mecograph on the draft W.O. Coffe.
The one here is a faithful copy, kindly produced by Mr. Ron G3YUH behind my specific and pressing request ....
To see the key in detail, I will refer you to the page dedicated to Ron Ayling aka G3YUH creations.
Write in the 2012, revise in 2017