Mecograph "coust reduce" #04 
Il modello #4 è apparso per un breve periodo nel 1906.
Il suo nome è anche "coust reduce" prodotto dalla Mecograph in piena guerra commerciale con la Vibroplex.
Mecograph semplifica il tasto cambiando il sistema di funzionamento, da tensione a rilascio, utilizzato nei modelli precedenti, adotta il sistema più semplice, quello della tensione e rilascio, cavallo di battaglia della Vibroplex.
Da notare che sia la pubblicità che il disegno di brevetto mostrato una chiave che opera a tensione e rilascio.
Anche se il disegno del tasto è ad angolo retto rispetto al pendolo, la chiave funziona proprio come un Vibroplex.
Il modello 4 rappresenta anche una riduzione dei costi, sostituendo il telaio da pezzo unico, con più parti assemblate, inoltre il Pivot della leva principale si snoda su un set di 4 minuscoli cuscinetti a sfera. 
La foto del primo tasto esposto è stato costruito fedelmente secondo il disegno di Brevetto da Mr. Ron Ayling G3YUH e funziona con il principio Mecograph di tensione e rilascio.
(clicca qui per vedere le foto complete del tasto sulla pagina dedicata a G3YUH)
La foto del secondo tasto è invece il Mecograph #04 prodotto dalle omonime officine, funzionante a tensione controllata.
08 Agosto 2017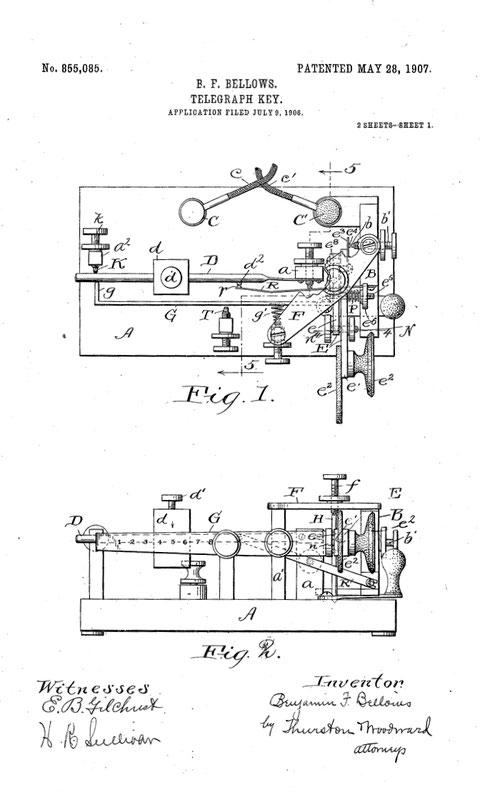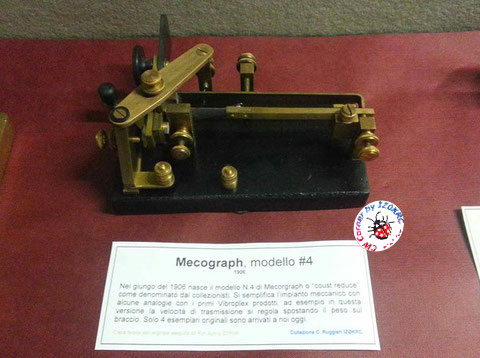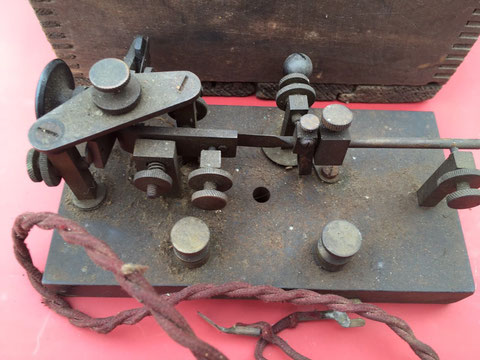 Mecograph "coust reduce" #04
Model #04 appeared for a short period in 1906.
So called also "coust reduce" produced by the Mecograph in the middle of commercial war with Vibroplex.
Mecograph simplifies the key by changing the operating system, leave tension and release and adopts the simplest system of tension and release, the Vibroplex's system.
It should be know that advertising and patent design show a key with tension and release system.
Model #04 also represents a reduction of costs, replacing the single-piece frame with multiple assembled parts, and the main lever pivot snapped onto a set of 4 small ball bearings.
The photo of the first exposed key was faithfully constructed according to Patent design by Mr. Ron Ayling G3YUH and works with the Mecograph principle of tension and release.
(Click here to see the complete photos of this key on the page dedicated to G3YUH)
The photo of the second key is the Mecograph #04 produced by the same workshops, with control of tension.
08 August 2017