THE STANDARD RADIO Co.

STANDARD RADIO  Bug - 1940.
La chiave in oggetto è stata costruita dalla Standard Radio Co. di New York su commissione speciale della US Army Corps.
Il suo impiego era specifico sugli Aerei operanti principalmente durante il secondo conflitto mondiale sulla costa Pacifica.
Le p

articolarità meccaniche del tasto sono sostanzialmente la sua solidità meccanica ed il peso complessivo 
I punti di contatto dei punti e delle linee hanno una superficie di contatto molto generosa, al pari dei famosi Mfg.
Le rondelle sono solide ed atte ad evitare lo spostamento delle regolazioni su di un
 aereo dove vi erano molte vibrazioni, la godronatura delle viti 
hanno un particolare disegno che ne aumenta l'aderenza, in modo da evitare lo scivolamento se usati in regolazione con i guanti di ordinanza.
Il dumper riprende il vecchio disegno dei primi Bluracer, ma al lato vi è stato aggiunto un solido disco in metallo che ne ottimizza la meglio le funzioni.
Il bug è appena arrivato ed è quindi ancora da pulire dalla patina del tempo, ma nonostante ciò sembra in ottimo stato, è completo di ogni suo componente originale e detiene la caratteristica targhetta con numero di serie #1593.
Vi ho operato per prova e sembra rispondere alla grande, direi veramente un ottimo bug.
La Standard Radio Company ha prodotto molte di queste chiave, ma solo per il lotto specifico avuto dalla US Army.
Ad oggi si conoscono solo
pochi
esemplari in collezione ed è quindi generalmente definito come "scarso" da trovare.
Questo bug è stato prodotto con base color nera, verde e più raramente color moro (marrone).

Sono stati catalogati ad oggi solo 16 di questi tasti registrati nelle varie collezioni.
Questo tasto è compreso nei 16 censiti e proviene da una vecchia collezioni U.S.A.
Undici di questi tasti non hanno alcuna etichetta, mentre solo cinque detengono l'etichetta originale con il numero di serie.
Il numero di serie più basso rilevato è il 1517 e il più alto 1599.
Su questo tasto vi è in corso un censimento, quindi se hai un Bug Standard Radio sei pregato di aderire a questa preziosa iniziativa operata da KT5X.
Tutte le info ed il link al censimento le puoi trovare nel sito di Mr. John "Mr. Morsemad" .
Un ringraziamento a Mr. John "Morsemad" per avermi autorizzato nell'uso di alcune info su questo tasto.
Ottobre 2012.
Altro sito con tutte le info su questa produzione :
http://www.rwhit.com/k9ljb/Standard_Radio_Bug/index.htm
manca nel censimento il mio Bug ;-)
Aggiunta 12 Ott. 2017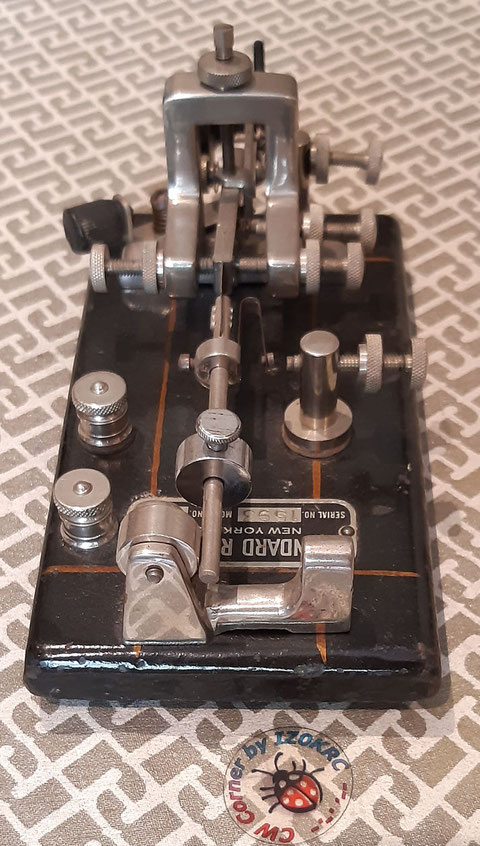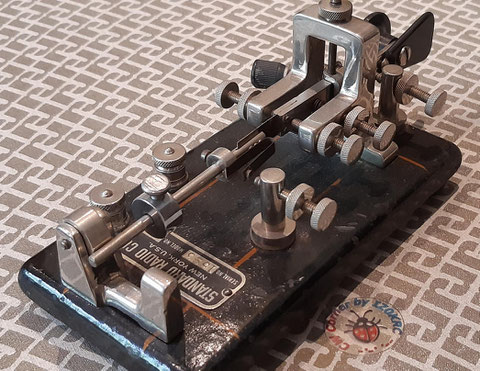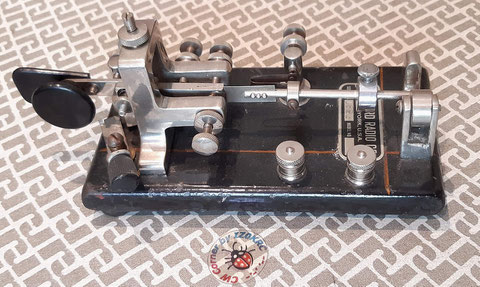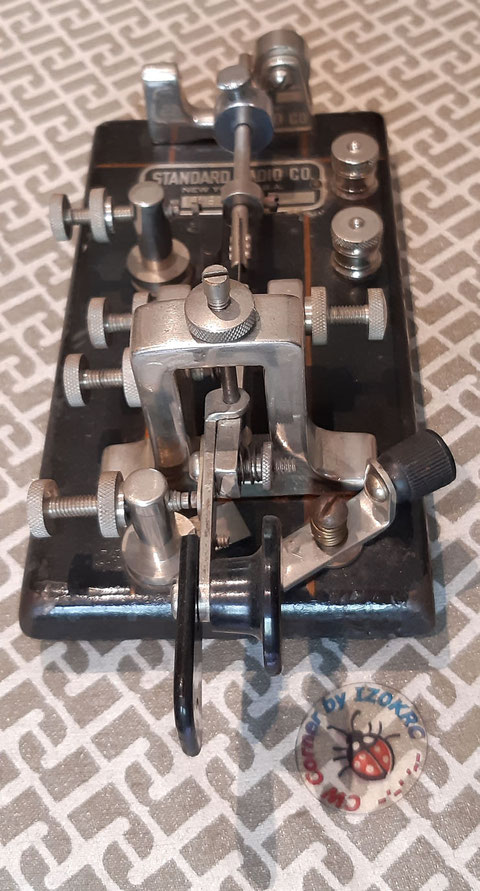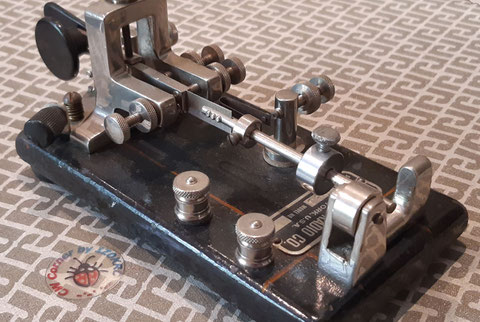 STANDARD RADIO  Bug -1940.
This key was built by Standard Radio Co. of New York, for special order of the U.S. Army Corps.
It's use was specifically on aircraft operating mainly during the Second W.W. on the Pacific coast area .
The particularity of this bug is a solid mechanical key and overall weight.
The contact points of the dots and lines have a contact surface very generous, like the famous Mfg.
The washers are solid and are suitable to avoid the displacement of adjustments on an aircraft where there were a lot of vibration, the knurling of the screws Hannoun particular design that improves grip, so as to prevent slippage when used in control with "order" gloves.
The truck is the old design of the first Bluracer, but to the side there was added a solid metal disc that optimizes its functions.
The bug has just arrived and is therefore still to clean the patina of time, but nevertheless seems in excellent condition, complete with all its original component and has the characteristic name plate with serial number # 1593.
I have worked to try and seems to respond to large, I would say a really good bug.
The Standar Radio Company has produced many of these key, but only for the specific lot was order by the U.S. Army.
Today we know only a few specimens in the collection and is therefore genrly defined as "scarce" to find.
This bug has been produced with base color black, green and more rarely dark brown color.
Have been cataloged to date, only 16 of these keys registered in the various collections.
This key is included in the 16 surveyed and comes from one old collection from U.S.A.
Eleven of these keys don't have a label, while only five hold the original label with the serial number.
The serial number is detected lowest 1517 and highest 1599.
There is active an initiative of census for this Bug, so if you have a Standard Radio Bug please join this valuable initiative operated by KT5X.
All the details and a link to the survey can be found on the website of "Mr. Morsemad."
Link : http://www.morsemad.com/ 
My special tanks to Mr. John "Morsemad" to authorize me to use some info about this Key.
October 2012.
Other Web-site with info about this little production : 
http://www.rwhit.com/k9ljb/Standard_Radio_Bug/index.htm
in the Census don't is included my bug ;-)
Update 12 Oct. 2017
Thank you for your attention, 73 de Claudio.