To read in english, please follow down the blue writes. TNX!
Up-right o Wirechief
Horace Martin ha presentato e ricevuto il numero di brevetto 1.260.008 per il suo primo tasto semiautomatico verticale.
Il suo di questo semiautomatico è Up-right, anche se comunemente viene denominato Wirechief.
L'Up-right è stato prodotto dal 1917 al 1919 .
Ad oggi si conoscono 29 Up-right originali.
L'Up-right è quindi un tasto raro ambito da molti collezionisti.
Perché l'Up-right è così raro da trovare ?
Le scarse vendite commisurate al ristretto periodo di produzione ( solo due anni) ed altri fattori operativi ne hanno determinato una scarsità nelle vendite.
Con molta probabilità Martin inventò il tasto per assecondare le necessità di avere il minimo ingombro possibile sulle scrivanie degli operatori professionali e l'Up-right in questo è un campione indiscusso.
Esso si sviluppa infatti in modo verticale lasciando all'ipotetico operatore più spazio nella scrivania.
Il suo sopranome Wirechief, (il tasto del capo) lascia intendere che i pochi tasti in uso si vedevano solo sulle scrivanie dei "capi", dove  sicuramente vi erano molte scartoffie e quindi poco spazio a disposizione.
L'Up-right è stato prodotto in tre varianti che differiscono tra loro per alcuni piccoli dettagli .
Nella foto sono visibili insieme un Up-right originale ed una copia fedele riprodotta dal noto OM e collezionista Martin Odenbach DK4XL.
Per maggiori dettagli su questo tasto, vai alla sezione dedicata alle riproduzioni di Martin Odenback DK4XL.
Settembre 2013.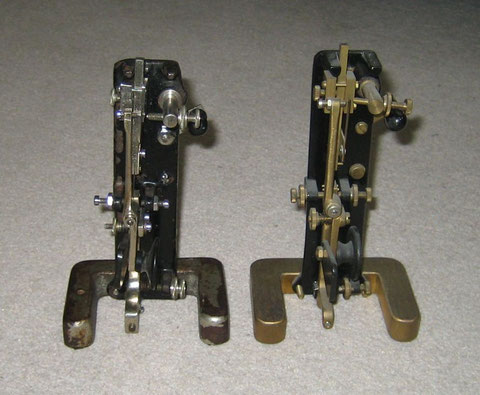 Two wirechief, to compare

 Up-right o Wirechief
Horace Martin received patent number 1,260,008 for its first semi-automatic vertical Key.

The name of this particular bug is Up-right, although it is commonly called Wirechief.

The Up-right was produced from 1917 to 1919.

Today is know 29 Up-right original.

The Up-right is therefore a key rare to be included in the collection, as much sought after by collectors.

Because Wirechief Key is too rare key ?
The poor sales commensurate with the limited production period (only two years), and other operational factors have resulted a poor sales.

Most likely the key has been created to need a smallest space possible on the professional desks, the Up-right in this is an undisputed champion.

Be it develops in a vertical leaving more space in the hypothetical operator desk.
His nickname Wirechief, (the key of the boss) suggests that a few keys in use were seen only on the desks of "bosses", where surely there were many paperwork and so little space available.

The Up-right was produced in three variants, that differ in some small details, which we will see later.
In the photo belove there are togheter an Up-right true original and a copy 1:1, reproduced by the famous HAM and collector Mr. Martin Odenbach DK4XL.

The key will be described in better detail in the section dedicate to Martin Odenback DK4XL.


September  2013.