Buzza Products

     Su Radio Rivista di Maggio 2013 è stato pubblicato l'articolo 
     che parla dell'Ing. Kraus e dei tasti prodotti dalla Buzza.
     Cliccando al link sottostante, potrai leggere l'articolo, per
     gentile concessione dei R.R. e dell'A.R.I.

     Buona lettura.

   _______________________________________________________________

      I've write a little article about August Krauss and his key,

 If do you will read this article,please click here!

     I thanks Fists Club and Key-note Magazine to have allowed
     this pubblication.
 Have a nice reading, 73 de Claudio Fist Member #15937
BUZZA Prodcut Co.
Buzza product iniziò la sua produzione nei primi anni trenta, fondata dall'ingegnere Tedesco, August A. Kraus, emigrato in Australia a Sydney nel 1930.
Ha inziato a lavorare in Australia come stipendiato, ma poco dopo ha dato avvio alla sua attività principale fondando la Buzza Product vicino Clarence Street a Sydney.
 La sua prima produzione era dedicata nel costruire set di apprendimento per la telegrafia.
Il nome Buzza deriva dal nome del cicalino che producevano, appunto il "Buzzer" applicato ai loro set di apprendimento.
Durante il secondo conflitto mondiale, quando fu dichiarata guerra alla Germania, Kraus fu internato a Sydney a Long Bay Gaol. 
Fu rilasciato solo dopo aver concordato con le forze alleate di impegnarsi a progettare e supervisionare la produzione dei tasti Morse per l'esercito e la marina Australiana.
Dopo la guerra l'Ingener krauss ha continuato a produrre tasti, ma con una capacità molto più ridotta.
Nel 1955 Buzza product si trasferisce alla nuova sede all' 80 Hotham Parade Street in Artarmon nel NSW.
Qui la produzione è stata principalmente l'ormai popolare e relativamente a buon mercato set di apprendimento della telegrafia, oltre a xilofoni giocattoli, il meccano, filatoi per ceramisti ecc.
L'azienda cessò di esistere nel 1977, due anni dopo la morte dell'Ingegner Kraus.
Come Bug, la Buzza product ha prodotto 3 modelli di Bug, il Lightnening ed il Single Lever, quest'ultimo ha una versione J-36 militare (analogo al j-36 della Vibroplex, sepur con delle piccole differenze, utilizzato dal Signal Corps) per tutti comunque la targa riporta Automatic Key n.100.
Buzza " Automatic Key No.100 "
Questo Bug Australiano di fatto si ispira al Vibroplex Lightning ma con un design diverso, il supporto della leva che produce le linee fornisce con il ritorno il movimento d'impulso per azionare il braccio principale che poi produrrà i punti, quindi ha come differenza due pivot, anzichè uno rispetto al Lighting.
Il Dumper si discosta dal design del Lightning impiegando un
minor numero di componenti.
Tutte le chiavi Buzza si contradistinguono dagli altri Bug, per avere i caratteristici paddle di colore rosso ed il Knob o pomello di colore nero.
Il Key n. 100 ha una base molto pesante che rende lo rende un Bug solido, si contradistingue per avere la peculiartià di generare i punti con un elevata precisione.
L'epoca di produzione risale intorno alla seconda guerra mondiale.
Rispetto alla versione militare prodotta dalla Buzza, questo è un Bug di livello superiore, sia come meccanica che come materiali impiegati per la sua costruzione.
Com'è operativamente ?
Preciso e rapido, è il bug ideale per un ottimo velocista.
L'esemplare sotto esposto è per dirla all'inglese in mint condition, non ho dovuto fargli nulla, neanche pulirlo.
E' accompagnato dalla sua sua custodia originale.
Settembre 2012.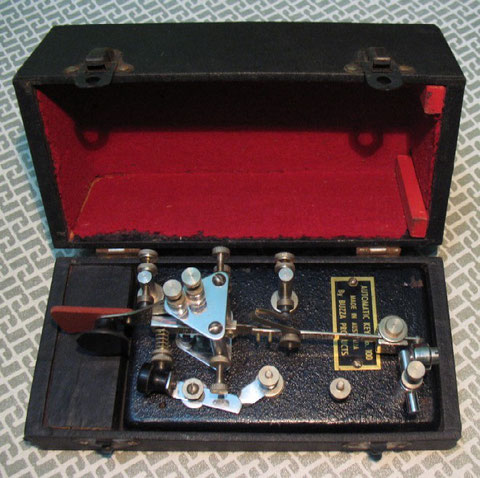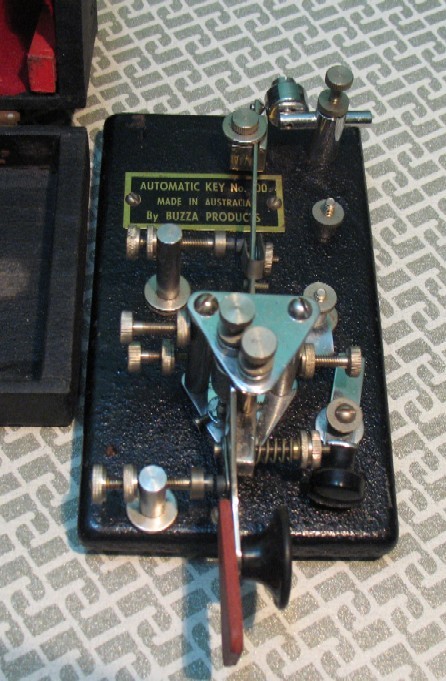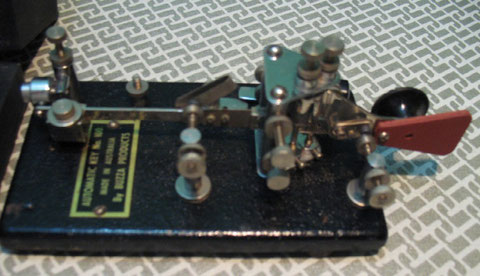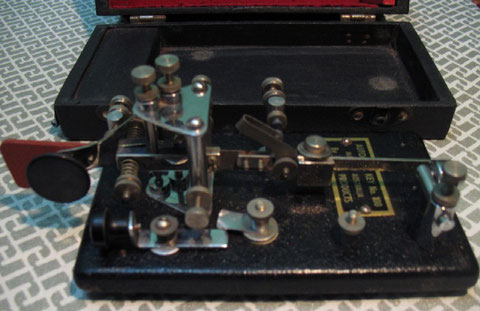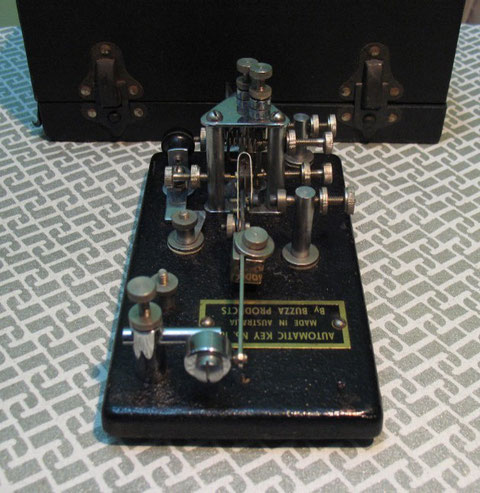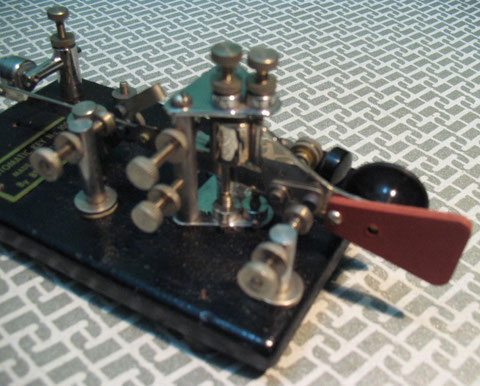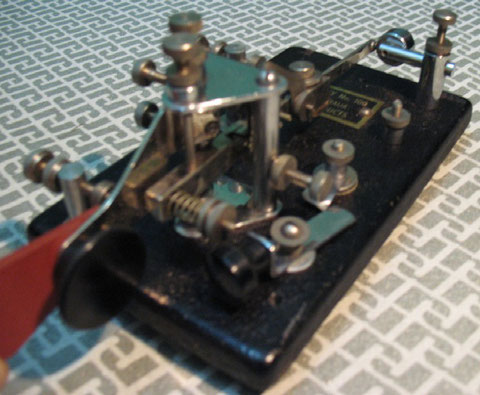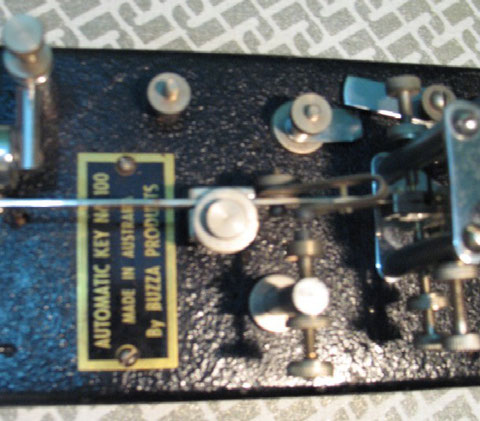 Buzza Prodcut Co. 
Buzza product starts its production in the early 1930, founded by German engineer August A. Kraus, emigrated to Australia in Sydney.
He started to work in Australia as salaried, but shortly after he launched his main activity basing Buzza Product near Clarence Street in Sydney.
His first production was devoted to building learning set for telegraphy.
The name of company comes from the name of Buzza buzzer that produced precisely the "Buzzer" applied to their learning set. 
Click here to see an example of a set of self-learning produced by Buzza. 
During the II World War, when war was declared on Germany, Kraus was interned in prision of Long Bay Gaol in Sydney.
He was released only after agreement with the Allied forces to commit to design and supervise the production of Morse keys for the Australian Army and Navy.
After the war the Ingener Krauss has continued to produce keys, but with a much smaller capacity.
In 1955 Buzza Product moves to new headquarters at '80 Hotham Parade Street in Artarmon NSW.
Here, the production was mainly the now popular and relatively cheap set of learning telegraphy, as well as xylophones toys, Meccano, spinning wheels for potters etc..
The company ceased to exist in 1977, two years after the death of the engineer Kraus.
Buzza product, produced 3 models of Bugs, the Double Lever, the Lightening and the Single Leverm this last have J-36 version (similar to j-36 by Vibroplex, with a minor differences used on US Signal Corps) ll have this write on plate "Automatic Key n.100".
Buzza "Automatic Key No.100"  
This Bug Australian made is inspired by the Vibroplex Lightning but with a different design, the lever holder that produces lines provides the movement with the return pulse to operate the boom which then produce the points, so the difference has two pivot , instead of one with respect to the Lighting.The Dump deviates from the design using a Lightningfewer components.
All keys Buzza is distinguishes from other Bugs, to have the characteristic red color and the paddle and her Knob in black color.
The Key n. 100, you will see above photos, has a base very heavy which makes a solid Bug, it contradistingue to have the peculiarity to generate the points with a high accuracy.
The production dates back to the era of II° World War.
Compared to the military version produced by Buzza, this is a Bug higher level, both as mechanical and as materials used for its construction. How operationally? Accurate and fast, it is the bug ideal for a good sprinter. 
The model outlined below is to put English in mint condition, I have not had to do anything, not even clean it.
It 'accompanied by his his original case. 
Translate in February 2013.
Buzza "Ligthning" model
Questo Bug nasce nel periodo del secondo conflitto mondiale e per questo le finiture risentono del periodo di austerità verso il reperimento dei materiali.
A desempio le basi hanno degli evidneti segni di fusione a bassa temeprature e le godronature sono poco rifinite.
In quel periodo oltre la scarsità di materiali, vi era l'ossessione di produrre quanti più bug possibili per garantire le forniture alle truppe alleate.
Meccanicamene identico al Ligthning della Vibroplex.
Marzo 2013.
Buzza "Ligthning" model 
This Bug was born during the second war world and the finishes are of the austerity period towards the procurement of materials.
To example the basics clear signs of low melting temperatures, the knurls are poorly finished.
At that time over the scarcity of materials, there was the obsession of produce as many bugs as possible to secure supplies to the allied troops.
Meccanical is like to the Vibroplex Ligthning.
March 2013.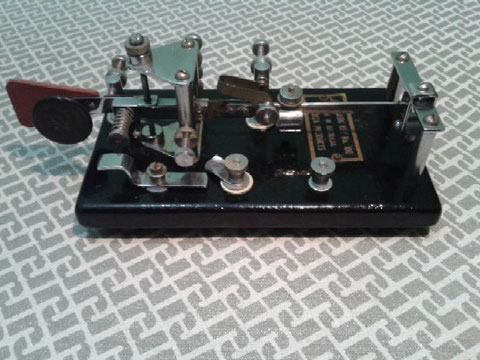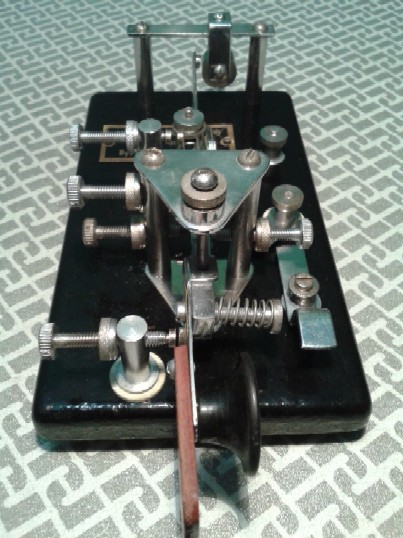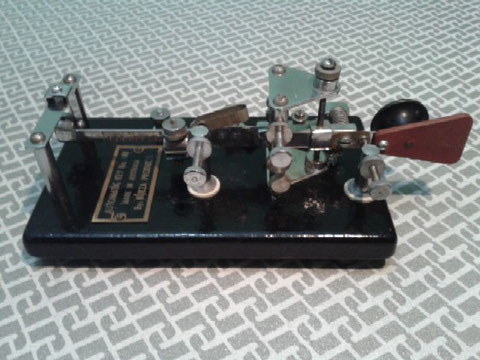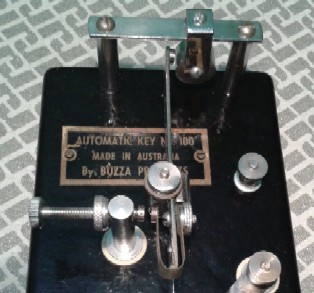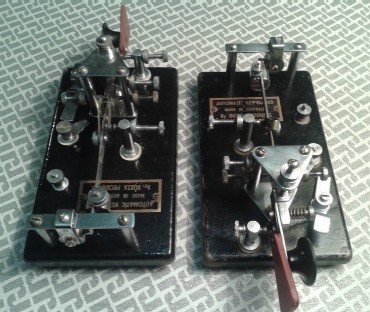 Buzza "single lever" model
Questo Bug nasce anche lui nel periodo del secondo conflitto mondiale e per questo le finiture risentono del periodo di austerità verso il reperimento dei materiali con le medesime carenze sopra evidenziate per il Lightening.
Meccanicamene identico al Lightening o Original della Vibroplex, con l'unica variante per il dumper (ammortizzatore) di tipo ad "L".
La versione militare denominato J-36 ha sulla targa la seguente dicitura :
J-36 Automatic Key
Singal Corps U.S.A.
Made in Australia
Marzo 2013.
Buzza "single lever" model 
This Bug also arises in the period of the two war world and the finishes resent of the austerity period towards the procurement of materials with the same deficiencies highlighted above for Lightening.
Meccanical is like to the Ligthning or Original model of Vibroplex, with the unique variant for the dumper (shock absorber) of "L" type.
The military is named J-36, this version has on the plate the following wording:
J-36 Automatic Key 
Singal Corps U.S.A.
Made in Australia
March 2013.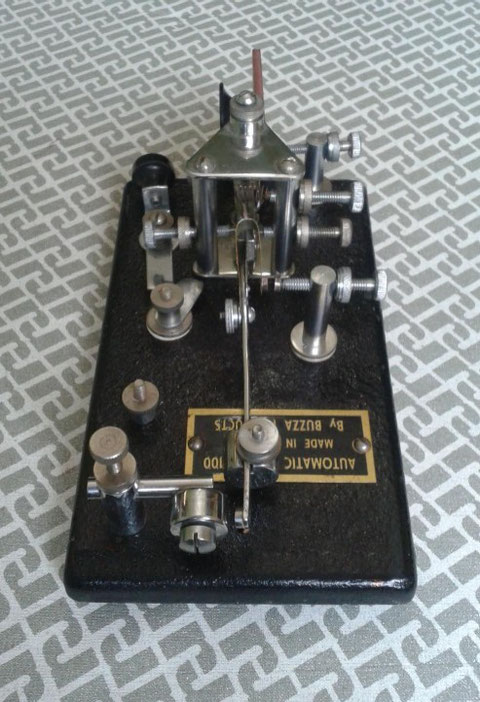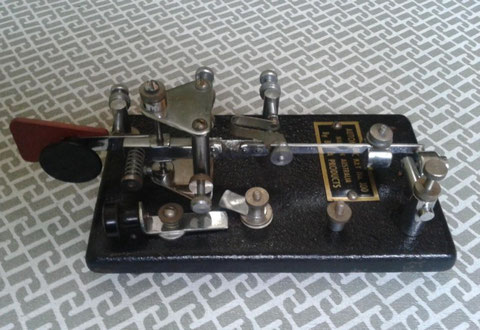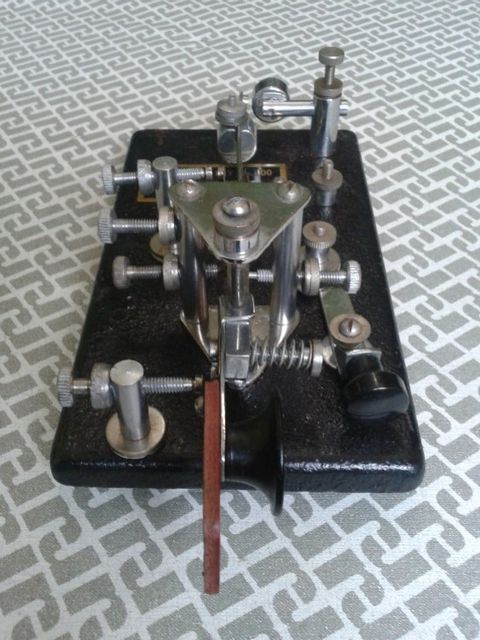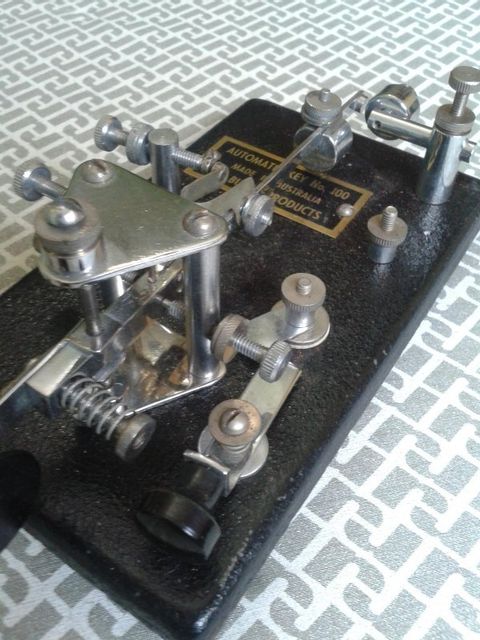 Buzza "set di apprendimento".
Un piccolo set di apprendimento prodotto dalla Buzza, si tratta di un semplice ed elementare tasto verticale connesso ad un Buzzer.
il set si completa con riportato in evidenza il codice morse internazionale. 
Buzza "practice set". 

A small practice set product by Buzza company.
A simpley key, conect with a small Buzzer.
The set is complete with evidence of international morse code.