To read in English, please scroll down the page, TNX!
THE AUTO PLEX

the Auto Plex bug.
Robert W. Steele - Winnipeng Manitoba, Canada.
Sono sicuro che il nome Auto-Plex, può avervi confuso !
Ho riscontato che su Internet le info su questo semiautomatico Canadese sono nulle o quasi.
Il suo nome ha un'assonanza con il più noto Autoplex di Horace Martin, ma questa è tutta un'altra storia.
Come sono arrivato a questo inconsueto Bug ?
Per un errore grammaticale.
Come noto tra i collezionisti ci si scrive e si comunica per swap, acquisti, ma anche per consigli e molto altro.
Oltre a noi appassionati e collezionisti, vi sono quei fortunati venditori Americani che entrano in possesso di Keys da rivendere. Loro acquistano diversi Keys a prezzi stracciati sia nei FleatMarket, ma anche dalle real estate of qualche HAM S.K.
Uno di questi venditori, mi aveva chiesto quali Keys io ricercavo ?
Nella mia lunga lista che gli avevo fornito ero alla ricerca anche di un Bug Australiano il Simplex-Auto............
così passano i giorni, le settimane ed ad un certo punto il venditore mi ricontatta per propormi un Auto-plex.
Lui mi scrive: il nome ha qualche assonanza con il Key richiesto, non sò se è proprio It, e se può interessare ?
L'Auto-plex mi può interessare ?
Non avevo mai visto un Bug simile, ho inziato allora a ricercare su Internet, ma nulla !
Ho iniziato allora a chiedere ad alcuni amici collezionisti i quali disconoscevano il tasto, o cercato e ricercato ed alla fine in uno dei miei libri, scritto dal caro Professor Tom Perrera W1TP ho trovato una sua descrizione :
"Key prodotto in Winnipeg Canada intorno al 1910 da Mr. R.W. Steele, solida base in metallo con braccio orizzontale posto tra un Frame tubolare, al lato destro una lunga leva di corto circuito ed una targa in metallo con scritto : The Auto Plex Mfg by R.W. Steele, Winnipeng Man."
Ok finalmente ero riuscito ad inquadrare "la produzione", la provenienza e la sua età insieme ed alcune info descrittive.
Ma senza una foto da comparare, non avevo di fatto gli estremi per poter comprendere se il tasto era veramente un Auto-plex originale o una sua riproduzione.
Mi sono rivolto come di consueto ormai al caro Prof. Perera W1TP e Mr. Schlehman K9WDY, i quali molto prontamente e cortesemente mi hanno confermato l'autenticità del tasto e delle preziose info per concludere al meglio la trattativa con il venditore.
Devo quindi doverosamente ringraziare il Prof. Perera W1TP e per suo tramite Mr. Gil Schlehman K9WDY per il prezioso aiuto e per aver donato a me un pò della loro conoscenza e competenza.
Atre informazioni in merito a questo Bug le ho poi trovate con il tempo ampliando le mie ricerche, tra le memorie di alcuni telegrafisti professionisti Canadesi, link : 
http://www.telegraph-office.com/pages/Canadian_National_Telegraph_office-1943.html
Ora ho quindi molte informazioni per completare la storia di questo Bug e del suo costruttore .
Chi era Mr. Robert W. Steele ?
Da quello che ho trovato in rete sul sito Canadese della Trainweb.org, Steele era un telegrafista della CANADIAN RAILWAY TELEGRAPH Society, e prestava servizio presso l'ufficio telegrafico n.151, sito in Furby Street presso la cittadina di Winnipeng nello stato di Manitoba in Canada.
Per maggiori informazioni clicca qui!
Oltre questa attività ufficiale, Mr. Robert condivideva la passione per l'autocostruzione di tasti telegrafici che ha poi commercializzato in Canada.
Non si sà quanti semiautomatici sono stati prodotti con il nome di "The Auto-Plex".
Il numero seriale più basso riscontrato ad oggi è il n.840, il numero seriale più alto è il 904.
Quello che si oggi è che ce ne sono in collezione un numero molto molto limitato ed è quindi considerato un tasto estremamente raro da trovare.
Atre info le ho trovate in questo sito dedicato alla storia dei Telegrafisti Canadesi : http://www.trainweb.org/
I commenti su questo tasto semiautomatico appena arrivato ?
Che è un bel pezzo di storia, oltre questa considerazione, aggiungo che il Bug era privo di una vite e con il pivot piegato a forma di S, quindi impossibile da operare.
Durante il viaggio ha preso dei forti colpi, ed il venditore non aveva avuto cura nel bloccarlo al centro del pacco (per fortuna che non sono andati in frantumi i "paddles".
Per il resto sembra integro, la base (perfetta) è rifinita sullo stile dei vecchi Mecograph "Tigerstripe" eseguita con il metodo dell'ossidazione a strato e poi con l'asporto di parte dell'ultimo strato di ossido al fine di formare questa pregiata finitura.
Devo ringraziare il mio amico Vito IZØGNY, che si è reso disponibile nel ricostruire la vite mancante, godronata rigorosamente con raspa a mano (sfido a riconoscerla in mezzo alle originali), Vito si è prodigato inoltre nella sostituzione del pivot danneggiato.
Dopo queste operazioni il tasto è un pò meno "pezzo da museo", ma è divenuto un valido Bug, "abile ed arruolato" per poter operare.
Grazie infinite Vito :-)
Parliamo un pò del suo progetto meccanico :
Molto simile al classico Vibroplex Original, che è il primo bug preso come riferimento dai vari costruttori dell'epoca.
Ha un braccio principale dritto di forma rotonda, imperneato con il suo pivot all'interno di un semplice castelletto o frame.
Il frame è composto da due semplici piloni a forma di "tubo" sormontati da una barra piatta di generoso spessore, anche i restanti componenti mantengono la stessa forma a tubo, ha inoltre la sua leva di cortocircuito sul lato destro caratterizzata dalla sua notevole lunghezza.
L'unica differenza con l'Original della Vibroplex è nel sistema dei contatti, quelli per generare i punti (dit), effettivamente la molla di contatto non è altro che una prosecuzione parallela della molla piatta del braccio principale.
Quasi al punto di attacco tra la molla principale ed il braccio, la molla dei punit (dit) attraversa la stessa per mezzo di un foro, per andare a toccare il pilone di contatto (dit point) per generare i punti in automatico.
Le linee (Dath) si generano manualmente, spostando il braccio verso sinsitra .
E' ovvio che l'Auto-plex costruito nel 1910 rientrava nella schiera dei cosidetti Bastard Bugs, cioè tasti che infrangevano i brevetti della "Vibroplex".
Giusto in quel periodo infatti Horace Martin viveva un momento particolare, la sua U.E.M. era fallita da poco tempo e questo costrinse Martin ha praticare nuovamente la professione di valente telegrafista per alcuni mesi ecc. ecc.
In questo particolare periodo tutti i produttori "illegali" di Bug avevano il cosi detto "campo libero" per produrre e promuovere a prezzi competitivi le loro realizzazioni.
Questa libertà cessò in modo brusco appena Martin strinse degli intensi rapporti commerciali con l'abile Mr. Albrigth, insieme fondarono la famosa Vibroplex.
Albright applico una strategia a "tenaglia", da una parte strinse accordi legali con la Western Union e le maggiori compagnie telegrafiche dell'epoca in modo da mettere al bando l'uso dei cosidetti Bug illegali.
Contemporaneamente iniziò a condurre un efficace caccia "alle streghe" ed a suon di carte bollate e tribunali riuscì a far decollare la Vibroplex ed a bloccare la produzione illegale di Bug.......
La sua più grande genialità è stata l'invenzione della famosa targa dal valore di 2 dollari Targa che applicata ai Bastards Bug li legalizzava all'uso, senza darne una garanzia sulla funzionalità, questa però è un altra storia che non voglio approfondire in questa sezione ......
Spero di non avervi annoiato, 73 de Claudio.
Ottobre 2012.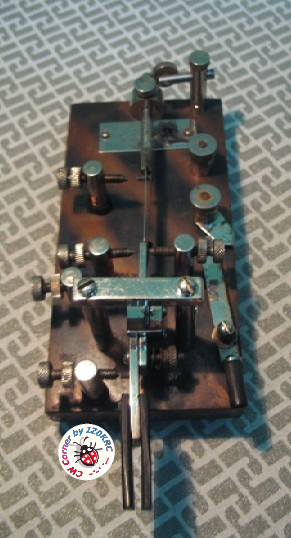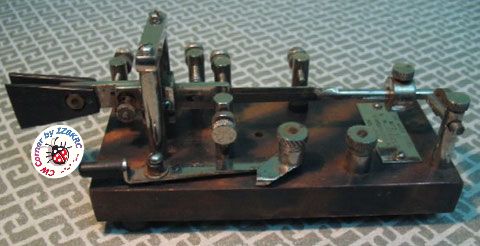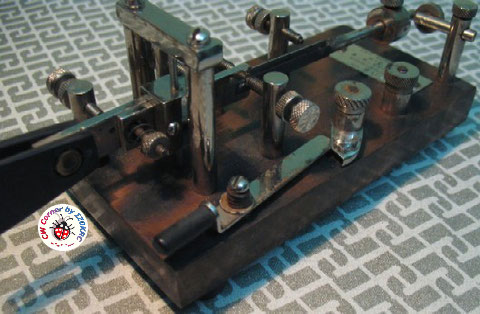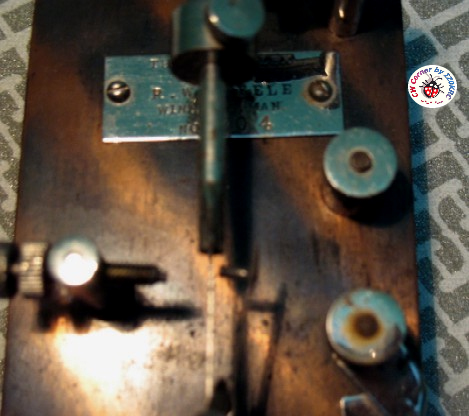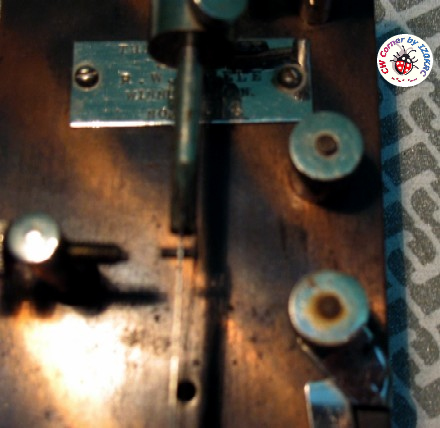 the Auto Plex bug.
I'm sure the name Auto-Plex, may have confused!  
I'm also a t first time don't have see almost anything on internet about this Canadian semiautomatic key.
His name has an assonance with the best-known Autoplex made from Horace Martin, but that's another story.
How I came to this unusual button?
For a grammatical error.
Yes is incredible, but is really.
As commonly beetwen the collectors there are writing and communicating for swaps, purchases, and also advice and much more.
Besides us fans and collectors, there are those lucky American vendors coming into possession of Keys to resell. Their purchase different Keys at bargain prices both in FleatMarket, but also by real estate of some HAM S.K. L
One of these sellers, had asked me which Keys I was search ?
In my long list that I provided, I was looking also for Australian Simplex Auto Bug ... ... ... ...
so after long time, the seller contact me again to consider myself an Auto-Plex.
He writes to me: "the name has some similarity with the Key required, I don't know if you own It, and if it may concern ?"
Auto Plex can affect me?
I had never seen a Bug like that, I started to search on the Internet, but nothing!
I ask some info to other my collector friends, but any know It...
I'm search and search and finally in one of my books, written by dear Professor Tom Perera W1TP I've found this description:
"The Auto Plex Key, product in Winnipeg Canada around 1910 by Mr. R.W. Steele, have solid metal base with arm vertically placed between a tubular frame, the right side a long short circuit lever and a metal plate with written: The Auto Plex Mfg by R.W. Steele, Winnipeng Man."
Ok Finally I was able to know "production", the origin and his age togheter some descriptive info.
But without a picture to compare, I hadn't done the extremes in order to understand whether the key was really an Auto Plex original or its a reproduction.
I ask as usual direct to dear Prof Perera . W1TP and Mr. Schlehman K9WDY, who very promptly and courteously have confirmed me the authenticity of the key and valuable info to conclude the negotiation with the seller.
Should I then dutifully thank to Prof. Perera W1TP and through her Mr. Gil Schlehman K9WDY for the precious help and for donating me some of their knowledge and expertise.
More information on this Bug I then found by the time expanding my research, among the memoirs of some professional Canadian Telegrapher, link:
http://www.telegraph-office.com/pages/Canadian_National_Telegraph_office-1943.html

Now I have so much information to complete the story of this Bug and its constructor.
Who was Mr. Robert w. Steele? 
Some info on Mr. Steele I've find in Canadian internet Trainweb.org , site of Telegrapher of "CANADIAN RAILWAY TELEGRAPH SOCIETY".
Mr. Robert Steele worked at the telegraph office no. 151, in Furby Street site at Winnipeng city in the State of Manitoba Canada.
Besides this official activities of telegrapher, Mr. Robert shared a passion for homemade Telegraph key which then marketed in Canada.
Don't is possible to know how many semi-automatic keys were produced under the name "The Auto Plex".
The lowest serial number found to date is no. 840, serial numbe,r the higher is no. 904.
What we know is that we have arrived very few specimens, and is considered an extremely rare to find key, the number of It don't exeded the fingers of hand.
Other info that I've found on this site dedicated to the history of Canadian Telegrapher, link :
To go directly, please click here !
My comment on this semiautomatics key just arrived ? 
That is a nice piece of history beyond this point, I would add that this Bug was devoid of a screw and pivot with S-shaped bent, then impossible to operate.
During the trip It my be have a strong blows, (the seller don't had package carefull It) thankfully they went to shatter their "paddles".
For the rest it seems intact, the base (perfect) is finished the old style Mecograph "Tigerstripe" performed by the method of oxidation layer and then with the removal of the last layer of oxide to form this luxury finish.
I have to thank my friend Mr. Vito IZØGNY, which was made available in reconstructing the missing screw, strictly with knurled with hand RASP ( You can recognize it in the midst of the originals ?), Mr. Vito has worked also in replacing the damaged pivot of arm.
After these operations, the bug is a bit less of "museum piece", but has become a valid bug, "able andlisted" to be operate.
Thank you so much dear Mr. Vito:-)
Let's talk about some of his mechanical project:
Very similar to the Vibroplex Original classic, which is the first bug taken as reference by the various manufacturers.
It has a straight main arm of round shape, with its pivot within main frame.
The frame consists of two simple shaped pylons "pipe" topped with a generous thick flat bar, even the remaining components remain the same shape to the pipe, also his short lever on the right side is characterized by its remarkable length.
The only difference with the Original of the Vibroplex is in the system, those contacts to generate points (dit), actually the contact spring is nothing more than a continuation of parallel flat main arm spring.
Almost to the point of attachment between the spring and the arm, the spring of point (dit) crosses the same by means of a hole, to go to touch the pylon (dit-point) to generate points automatically.
The line (Dath) are generated manually by moving the arm to the left side.
It is obvious that the Auto-Plex built in 1910 was in the ranks of the so-called Bastards Bugs, keys that effectively infringment the patents of "Vibroplex".
Just in that period indeed Horace Martin was living a special moment, his U.E.M was failed recently and martin was gone to practice again the profession of valens Telegrapher for few months etc. etc.
In this particular period all manufacturers of "illegals bugs" had free to produce and promote competitively priced their achievements.
This situation was so abrupt as soon as Martin squeezed of intense trade of relations with the affair talentet of Mr. Albrigth, together founded the famous Vibroplex.
Albright apply a "pincer" strategy, on the one hand he made legal agreements with Western Union and the major telegraph companies at that time so to bandit the use of so-called "illegal Bug".
Respectively started to conduct an effective hunting "witch-hunt" and manage trought courts to managed this problem.
In this way have launch the the Vibroplex on progress to win to other and so blocked the illegal production of bugs .... ...
Its greatest genius was the invention of the famous plaque worth $ 2 plate them on Bastard Baugs to legalize them for use, without giving a guarantee on functionality, this however is a different story that I will not discuss in this section ... ...
I hope not to have bored you, with 73 de Claudio.
March 2013.