To read in English, please scroll down the page. TNX!
Relay Leach of San Francisco

Leach "Speedoplex" bugs.
Lo Speedoplex è un bug costruito dalla Società Relay Leach di San Francisco. 
Sostanzialmente la Leach ha prodotto per oltre 80 anni relais e solo due modelli di tasti semiautomatici.
Speedoplex No.1, veramente molto raro e con un particolare disegno del frame principale a forma di trapezio, base solida e componeneti nichelati, senza targa di riconoscimento.
Spedoplex No.2, se ne conoscono ad oggi una dozzina nelle varie collezioni.
Il progetto non è nient'altro che sullo stile del Vibroplex original, con finitura della base nera lucida e goffrata, quest'ultima più rara e poco utilizzata all'epoca di produzione 1930.
Il tasto in foto differisce dal comune N.2 per lo stile del dumper (incernierata sul retro).
I fori della targa sono trasversali (la maggior parte hanno le targhe poste longitudinalmente), padle e Knob credo che siano originali, la  finitura di base assomiglia alla scarsa finitura "finta pelle o Krankle" che si trova su alcuni bug Vibroplex a partire dal 1920.
I pesi e le loro viti dei terminali di contatto sono originali, anche se questi ultimi si possono trovare di forma esagonale su alcuni modelli.
Direi quindi una chiave completa, ad eccezione della targa.
Opera ne più ne meno come un orginal della Vibroplex, con un escursione più ampia della velocità di trasmissione, grazie ai doppi pesi.
Qui vi è un link al sito di Mr. Lynn N7CFO che ringrazio, di una locandina pubblicitaria della produzione Leach. 
Febbraio 2013.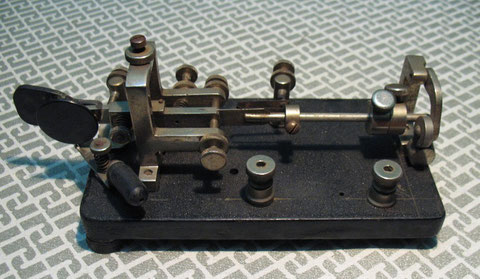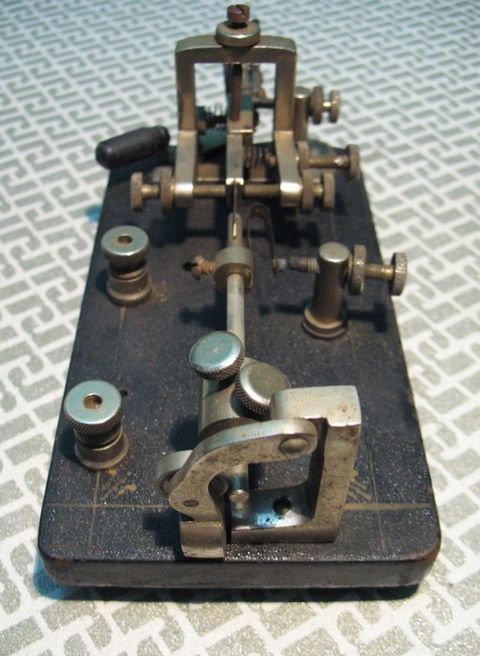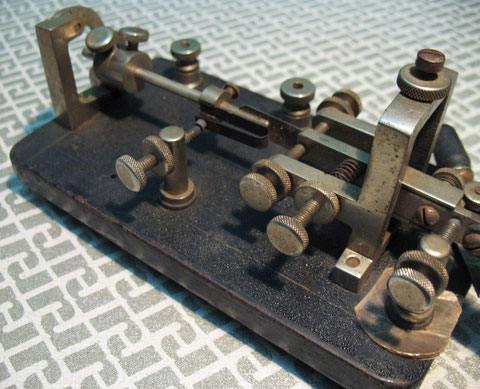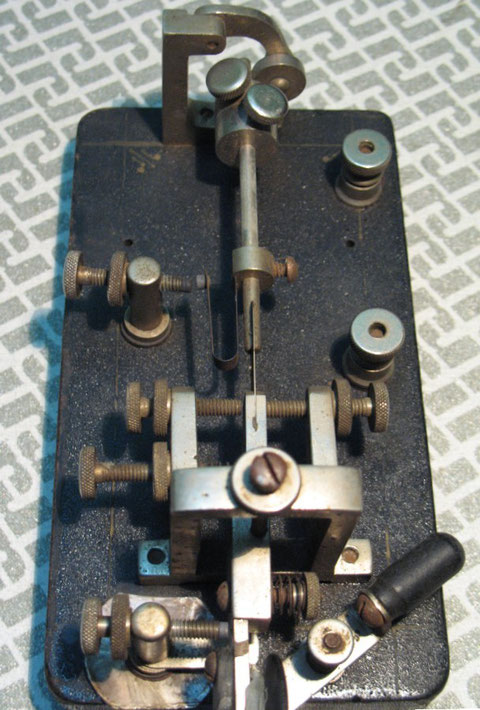 Leach "Speedoplex" bug.
 
The Speedoplex bug is made by the Relay Leach Company of San Francisco.
Substantially Leach has produced product for over 80 years only relays and only two models of semi-automatic keys.
Speedoplex No.1, really very rare and with a particular disegn with the main frame in trapezium form, solid base with nichel hardware, no plate.

Spedoplex No.2, are known to date a dozen in various collections.
The project is like the style of the Vibroplex Original, with glossy black finish base and embossed it more rare and little used at the time of production 1930.

The key in the picture differs from the common No.2 for the style of the dumper (hinged at the back).
The holes in the plate are transverse (most have plates fitted longitudinally), padle Knob and I think they are original, finish of base resembles the "imitation leather or Krankle paint" found on some bug Vibroplex since 1920 .
The weights and they screw pf the terminal contact are original, although the terminal also can be found on some models of hexagonal shape.

I would then complete a key, with the exception of the plate lost.
Work like an Orginal Vibroplex, with a wider excursion of transmission speed, this beacause have doubles weights.
Here is a link to the site N7CFO I thank Mr. Lynn, a poster advertising the production Leach

February 2013.