F.A. Wilcox

Fred Wilcox
Un altro maker Canadese, Operatore della National Canadian Telegraph Company, al pari di Rolf Brown produttore dello Xograph.

Anche Lui aveva una piccola officina sotto casa dove produceva tasti telegrafici per i suoi amici tra il 1920 ed il 1930.
Fred non aveva macchine specifiche per questa produzione e molte parti venivano costruite grazie alla sua abilità manuale.
Questo fa si che non vi è un tasto prodotto uguale ad un'altro, ma ogni bug è diverso.
Si sono trovati bug prodotti con base in ferro o ottone, dalle forme più svariate.
Rettangolari, Triangolari, Ovali ecc.
Non usava applicare targhe sui suoi tasti, ma inseriva il suo nome un po in ogni parte del tasto senza una regola precisa, l'unica costante è il numero di serie, generalmente impresso sul dumper.
Il tasto sotto esposto ha una pesante base in ottone cromata, cosi come lo è il frame, il pendolo e molte altre parti.
Le sole viti di regolazione del frame sono invece in ferro cromato, mentre le restanti in ottone.
Il tasto opera egregiamente senza spostarsi dal tavolo per via dell'importante peso complessivo del tasto.
Da notare lo spessore della base che è una volta e mezza quella di un normale Vibroplex.
Mentre ho smontato il tasto per ripulirlo e lubrificarlo ho avuto modo di osservare fino in fondo che effettivamente ogni parte è costruita manualmente e nessuna ha la precisione di una officina seriale.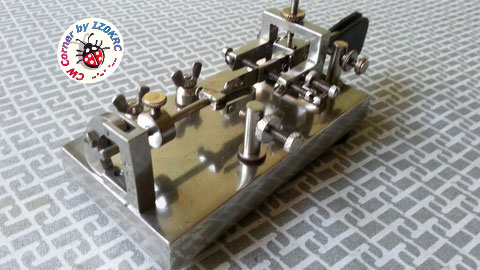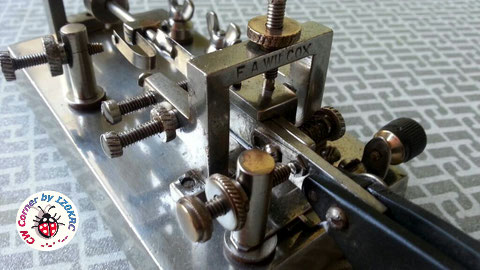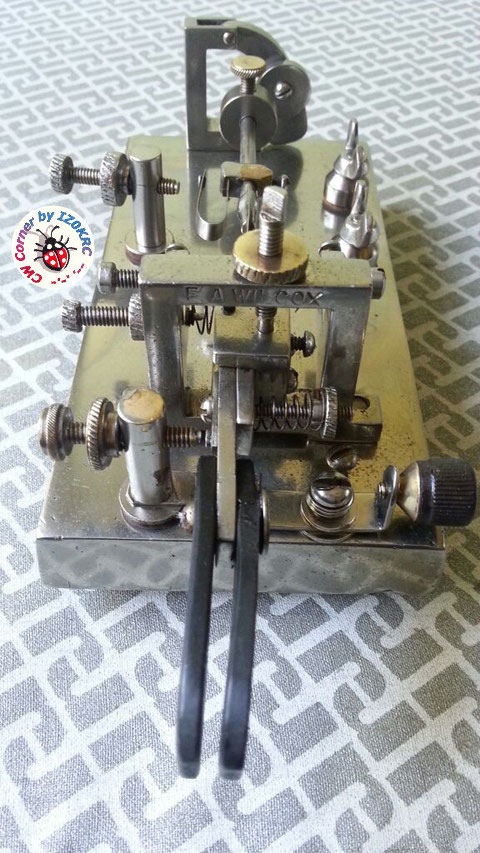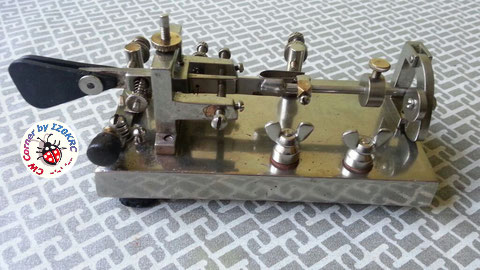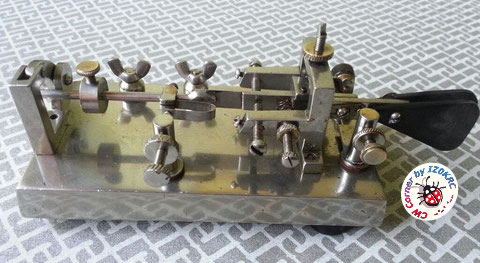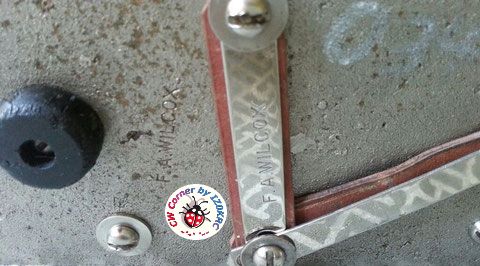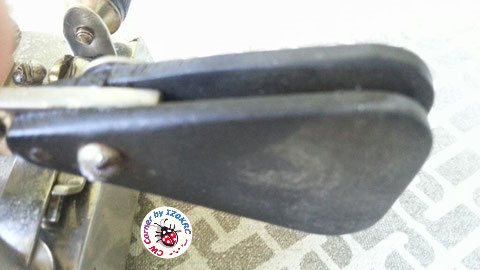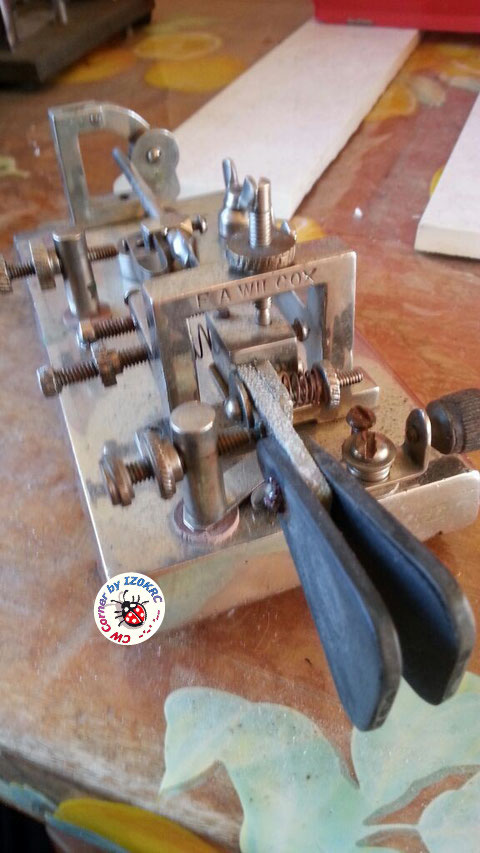 Questa è la foto del tasto appena arrivato e pronto per le pulizie.
Dopo una bella lucidata con il Sidol, per rimuovere i residui, il tasto opportunamente smontato in ogni suo componente è stato inserito nella lavatrice ad ultrasuoni, asciugato, oliato a dovere e rimontato a nuovo.
Sotto le varie fasi.
_____________________________________________________
This is the photo of key just arrived and ready for cleaning.
After a polished with "Sidol", in order to remove the residue in all part of key, all is put inot the ultrasonic cleaner.
Then after drying, the key has been properly oiled and reassembled ... almost like new.
Under the various phases.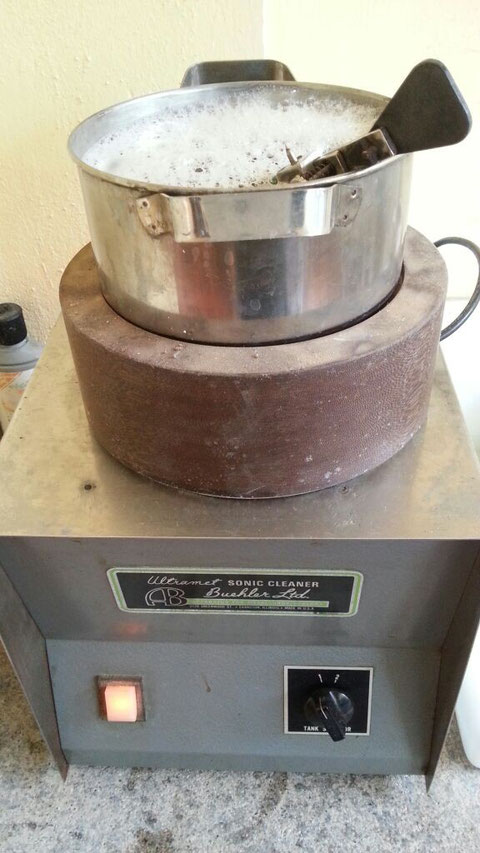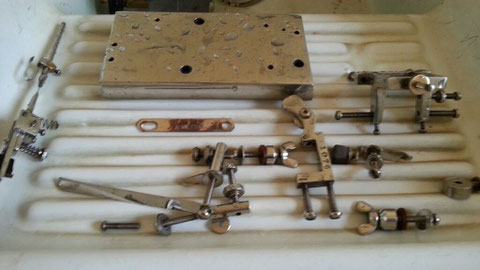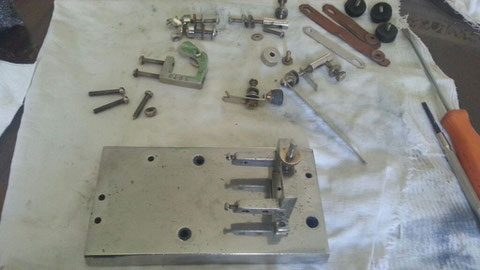 Fred Wilcox
Another Canadian maker, Operator of Canadian National Telegraph Company, like Rolf Brown producer of Xograph bug.
He also had a small workshop under your house, and where he produced telegraph keys for his friends in the period 1920 - 30.
Fred had no specific machines for this production, and many parts were built thanks to his manual ability.
This means that there is a key product equal to another, but each bug is different.
They have found bug products with iron base or brass, the most varied forms.
Rectangular, triangular, also oval etc.
He didn't use plates applied on the key, but inserted his name in some parts of key without a precise rule, the only constant is the serial number, usually printed on the dumper.
The key below exposed have a heavy brass base chrome plated, so as is the frame, the pendulum and many other parts.
The only adjustment screws of the frame are chrome-plated iron, while the remaining brass.
The bug works very well without moving from the table because of the important overall weight of the key.
Note the thickness of the base which is one and a half more hight of a normal Vibroplex.
While I disassembled the key to clean and lubricate it I was able to observe the way that each part is actually built manually and none have the accuracy of a serial workshop to build knurled etc.